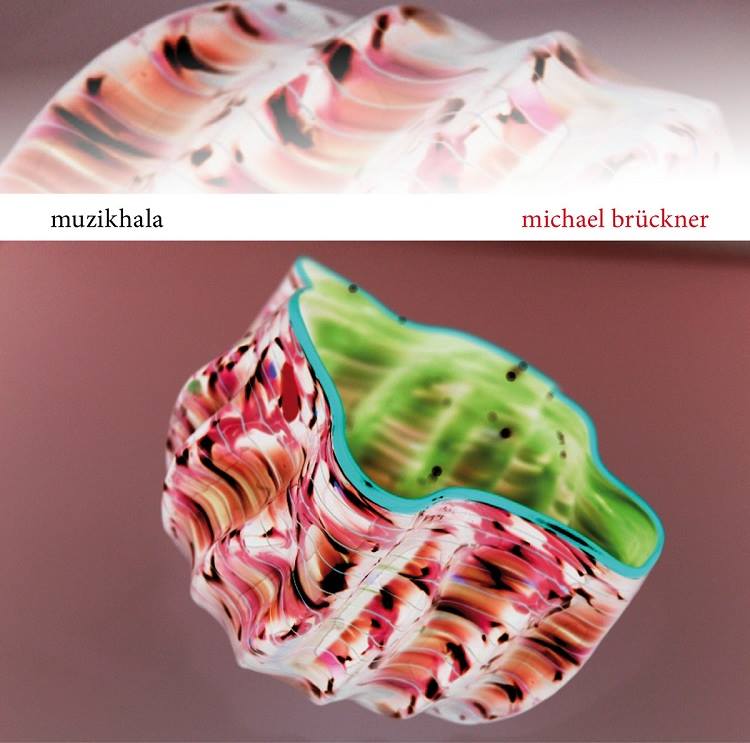 Muzikhala
by Michael Brückner

Visit Michael on Bandcamp

or on Facebook
Wow, this wealthily packaged triplet looks to me as one of the most challenging releases Michael Brückner has ever self-released. You almost won't believe this is "only" a 3 pro CDr release with gorgeously designed 6-panel digipak with additional 6-page foldout insert featuring extensive liner notes about the history of "Muzikhala". A true visual bliss is delivered here, well-done, Michael!!! This triple album is out since the end of May 2016 in a limited first edition of 50 copies.
"Muzikhala" is taken from the Chichewa language, which is spoken in African countries Zambia and Malawi, and it means serenity. And that's exactly how this long immersing odyssey unfolds. Long-form "Muzikhala - Part 1 (The Aeronaut)", running to 78 minutes, sweeps the listener's ears with subtle cascades of warmly spacious washes, enriched here and there by assorted, delicately interacting cyber-biotic subtleties and intangibly poignant bass reflections. Gracefully ethereal choir-like blankets clandestinely sneak in and guard above, while translucent piano notes silently permeate as well. The journey relentlessly meanders from soothingly embracing horizons to splendidly majestic immenseness, from mildly ear-titillating mesmerizing vistas to illuminating, tribal-infused passages, from spiritedly ringing percolations to cybernetic vocoder obfuscations. The overall flow of this long composition is refreshingly colorful and masterfully reinforced by magnificently lithe arrangements. So no matter if sonorously engrossing or melodiously tranquilizing, this is certainly a really strong, tour de force ambient recording by Michael Brückner! Bravo!!!
The second disc, comprised of 5 longer tracks clocking from 12 to 22 minutes, starts with "Bem Betél", which precisely merges panoramic washes with crystallinely tinkling quietudes, then metamorphosing into more massive, yet transitory zones, before delving deeply into Middle East fragranced percussive terrains. Sensual rhythm-charged ethno perfumes meet exquisitely vellicate tapestries and sinuously riding solitudes. A blazing sonic elixir! "Reanimation (Zoom In)" dives straightly into ambiguously unfathomable depths, where rather flatlined driftscapes are fastidiously brightened by ephemeral gossamer fragments, gurgling dissonances, longing glimpses and bizarrely faunal peeps (maybe seagulls?), while afterwards evocatively balmier Berlin School layers inconspicuously emanate from the void and safely guide through a maze of paths. Another top-notcher although strongly contrasting against its predecessor. "Muzikhala - Part 2 (The City Planners)", the longest piece on this CD, incorporates twisted cosmic meridians coupled with stringed flickers. Then metamorphosing into rhythmed factory-driven labyrinth and again returning into more spatial zones, enthrallingly euphonious, yet augmented by an array of cyber-tech traceries. "The Vishnoor Incident" attracts with slightly sharper rhythms thrown into an subterranean grotto, while later transmogrifying into intenser, sequencer-propelled adventure. "Drowning", as indicated by its title, moves into calmer and deeper terrains albeit bridged with pervading sequences, ear-tickling droplets, yearning glimmers and cinematic climaxes. A really nice ending to this 77 and a half minutes long ride!
"Muzikhala - Part 3 (The Rift)" is a 76-minute composition masterfully winding through extensive variety of territories, ranging from amorphously droning to galactically rumbling, from cybernetically transcendental to serpentinely intriguing, from diaphanously elegant to effulgently galloping, from ethereally engulfing to enigmatically spellbinding. An all-inclusive cosmic odyssey fully blossoms here and exhibits Michael's tremendously creative potential within this particular, vintage-infused style of spacemusic. This third part splendidly wraps up the whole story!
"Muzikhala" 3xCDr is a real winner by Michael Brückner, both musically and visually!!! And kudos go also to Mathias Brüssel, who was already Michael's partner in crime on extensive "Ondes Intergalactiques". This time he is credited for his guest appearance (guitar, slide guitar, additional keyboards and drum programming) on three parts of "Muzikhala". Michael Brückner's composing flexibility is just amazing, but when it goes to my rather zealous die-hard ambient taste, then "Muzikhala" is definitely among my most esteemed recordings by this German soundexplorer. And "Muzikhala - Part 1 (The Aeronaut)" could be a magnum opus!!! Before I forget, for all those who prefer digital version of "Muzikhala", be prepared for extra 4 and a half hours (!!!) of recordings featuring mostly the original early versions. And that's a hell of a lot of space journeying!!! It's quite obvious for such prolific artist that several other albums have landed in the meantime like self-released "The Giant Illusion" (a double compilation), "Trois Briques" on SynGate or a live document by Tommy Betzler & Michael Brückner (featuring Sammy David and Fryderyk Jona) "Triplet" (CD+DVD), which is out now on Groove Unlimited. Join the odyssey now!
Reviewed by Richard Gürtler (Jan 05, 2017, Bratislava, Slovakia)