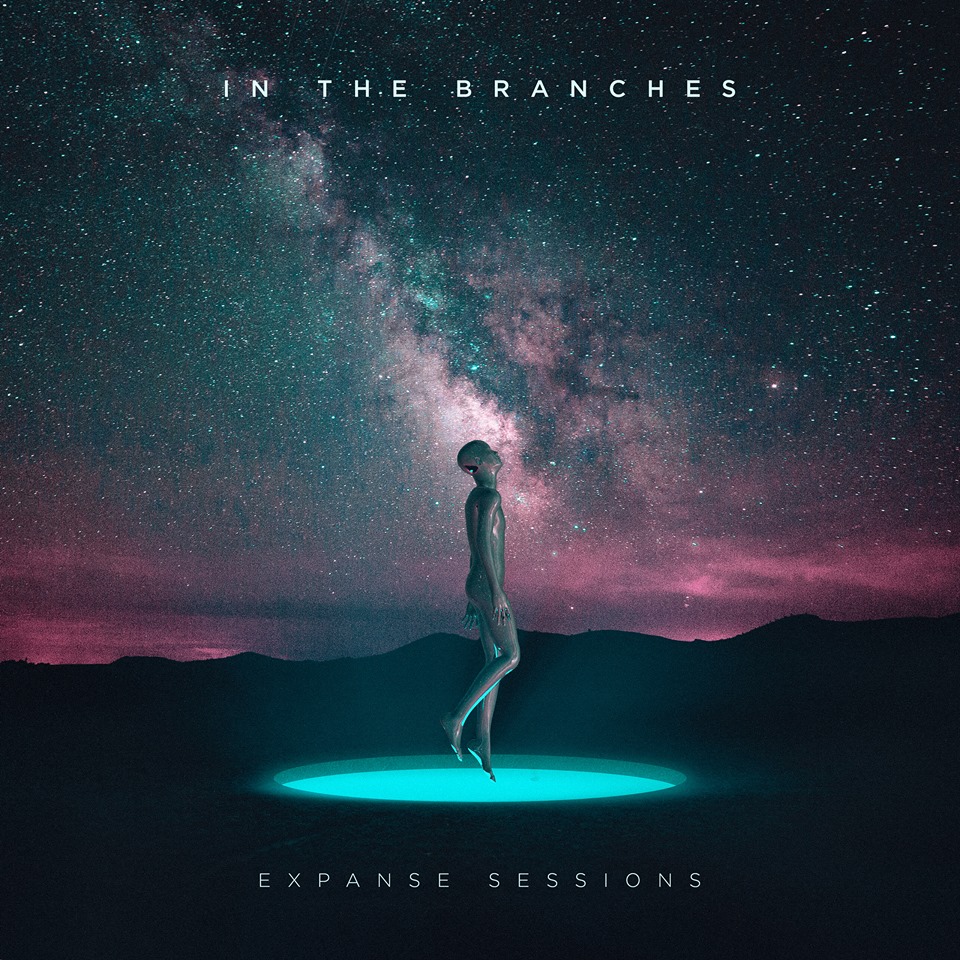 Expanse Sessions
by In the Branches

I still deeply treasure the day around the beginning of August 2015, when Roy Mattson turned my ears to this unknown solo ambient project hailing from Portland (thanks a lot, Roy!!!). August 6th was the day, when Shane Cotee, the sole protagonist behind In The Branches project released "Expanse Sessions", as a debut album under this moniker. Actually, his main project is The Adaptive, a chillout/downtempo infused adventure bridging Western modern rhythms with Eastern fragranced melodies, with two digital releases so far ("Reinvent" EP from October 2014, and "Evolve" album from May 2015). Back to In The Branches, since the very first days of this encounter, I have been closely following this gifted ambient guitarist (and photographer too) and I was very glad when Shane Cotee has brought the physical version to the light few months later. A self-released CDr is out since the second half of October, although packaged in rather simple cardboard sleeve, the visual part of this release is breathtakingly gorgeous, when featuring stunning cover image by another talented artist from Oregon, Nevan Doyle, who has already contributed his visual talent to both above mentioned releases by The Adaptive. "Expanse Sessions" album was released as a pro CDr in limited edition of 100 copies and is available through In The Branches/The Adaptive site on Bandcamp.
Equipped with his guitar and assortment of effects pedals for delay, looping, reverb..., on nearly 7-minute opening piece, "Galaxyrise", In The Branches' Shane Cotee delves deeply into dazzlingly evocative terrains, where sparse, yet utterly expressive stringed patterns are continuously guarded by warmly gliding expansive blankets. Few glitchy ornaments ephemerally permeate as well. Yes, rather minimal, but hugely enveloping soundscape undoubtedly exhibiting the giant talent and filigree virtuosity of its creator. And the way the visuals support the music, and vice versa, that's just amazing!!! Bravo, Shane, bravo, Nevan!!! The next track, "The Second Half Of A Memory", clocking to nearly 9 minutes, continues the journey through heartwarmingly gracious plateaus with intricately nuanced riffs, panoramic quietudes and tenderly sculpted undercurrents. Floating, meandering and shimmering guitarscaping at its most splendorous!!! If I was only knocking on the doors of the tranquil Eden with previous two compositions, "Nebulae" unlocks the gates immediately!!! Fascinatingly enrapturing sceneries are fully unfolded by Shane Cotee's mastery in experimenting with his guitar and effects. A truly gorgeous yearning harmonies invade, profoundly evocative and intimately engrossing. This is a true masterpiece, sculpted with peacefully ringing strings, emotionally charged cascades and gliding through devastatingly immersing horizons. Almost weeping strings of "To Never Forget" leave me again totally delighted, unmeasurable exquisiteness of In The Branches' wizardry in painting blissfully atmospheric subtleties reaches most likely its climaxing magnitude. Waxing and waning dreamy melodies have never sounded more captivating!!! With "Nebulae" and "To Never Forget" my ears are intensely bathed in an ultimate euphoniousness lasting for nearly 13 minutes. I won't hesitate to pen down that with such astonishing performance Shane Cotee with his In The Branches project is ready to enter The Ambient Guitar Hall Of Fame. Not bad for a debut release, isn't it? Yeah, that's how sophisticated is this album so far!!! "Floating", with 11 and a half minutes the longest composition, keeps on the deeply longing cinematic path, where fragile, yet enchantingly hazy strings are punctiliously commingled with intangibly sinuous grace of ethereal washes. Subtly nuanced soundscape ceaselessly reveals an array of truly breathtaking vistas of long forgotten memories. Immensely sweeping sonic elixir awaits here!!! "Event Horizon", as displayed by its title, might be the most expansive and enigmatic dronescape on the album, relentlessly painting remotely reverberating helixes in the background, while warmer introspection inconspicuously sneaks in along with whistling glimpses. And over the course augmented by silently emanating stringed evocations, which surreptitiously metamorphose from elusive glimmers to poetic apparency. Another beauty on the track list!!! "The Return" closes this utterly gorgeous recording with mellow variety of embracing stringed motifs, which constantly interact with each other and amalgamate with plaintively lingering vistas. The closing notes calmly fade away and my ears as much tranquilly emerge from fluid warmth of Shane Cotee's emotionally driven bravura.
As usual, no comparisons in my review, but I can give you one hint, and a very strong one. Keep an ear and eye on this enormously crafted guitarist, because I have no doubt that big things await him and I am pretty sure Shane Cotee is heading to the same pedestal as Jeff Pearce. Sure, he must confirm his huge talent with his next physical release, but I am not afraid of his potential!!! But before wrapping this glowing review, I will also add some critical points of view, it's regarding the cardboard sleeve packaging. It's not a secret, I am not a big fan of this simple packaging, especially because of missing spine. Sure, sometime even this packaging can be executed masterfully, for example Bruno Sanfilippo's "Upon Contact Reworked" CD comes to my mind, but in the case of "Expanse Sessions", it simply didn't work for me and I am not speaking about the visuals, as mentioned already, they are absolutely fascinating. I think, for example, 4-panel digipak or eco wallet with spine would be much more attractive and suitable for such poignantly powerful recording with gorgeous visuals. Also I am missing some additional info on the sleeve, like some release notes and for sure credits for visuals, Nevan really deserves them, the same with mastering, which was done by Steven Taylor. Also the track list is not complete, "Floating" track is missing, so avoiding such mistakes is absolutely necessary with the next release. And if the album would be reissued by some luck as a glass mastered CD, that would be certainly the icing on the cake!!! Well, Shane Cotee knows all this already and I can guarantee he will release next time a top-notch packaged product, which will justify both, the music and the visuals. Keep on going, Shane, you need to take only few more steps and you can be sure, I will keep my fingers crossed for you!!! Not to forget, except "Expanse Sessions" you can check out his next album, "Vivid Memories", which is available since the middle of October 2015 as digital download only. Shane's sonic visions have widened once more, it's highly recommended too and I really hope one day it will end up on a well-deserved physical format. In any case, Shane Cotee aka In The Branches is one of the biggest revelations of 2015 and 53-minute "Expanse Sessions" album is one of its pinnacles!!! Shane, I take my hat off to you for taking me with "Expanse Sessions" into your abundantly soulful oasis!!!
Reviewed by Richard Gürtler Guest Reviewer here on Ambient Visions (Jan 17, 2016, Bratislava, Slovakia)