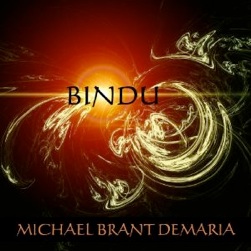 Bindu
by Michael Brant DeMaria

Bindu is the fourth release in Michael Brant DeMaria's "Healing Sound Project" and was 1 1/2 years in the making. DeMaria recently received his fourth Grammy nomination, and I would expect Bindu to earn him his fifth in 2012. Demaria's previous albums have explored outer nature as a place of healing, but Bindu is an exploration of our deepest inner nature. Dr. DeMaria further states: "As a 30 year practitioner and teacher of meditation I have learned one of the most effective ways for us to take care of ourselves and our world is by quieting our minds and opening our hearts to the miracle of this moment, this life and each other. That is what Bindu is about for me." The title is a Sanskrit word that means "point" and is often used to signify the moment of creation in both a universal (origin of the universe) and deeply personal sense (any moment of creativity). The sound quality of this album is amazing for its clarity, warmth, and effectiveness in creating an atmosphere for deep self-exploration. DeMaria composed and performed all of the music as well as doing the graphic design for the project. The artwork is bold, dramatic, and very beautiful, as is the music. Although the album presents a journey and a progression, each of the ten tracks is distinctive and tells its own story through the use of ambient sounds, keyboards, Native American flutes, and voices.

Bindu begins with "The Way Beyond," an invitation to find the path beyond oneself on the journey within. Keyboards, Native American flutes, and light hand percussion are hypnotic and welcoming, and the lively tempo is upbeat. "Journey Within" goes much deeper, with the sound of slow but powerful breathing, angelic voices, and mysterious, ambient instrumentation. Breathing from the heart continues in "Anahata," accompanied by haunting voices and feelings of vast openness and effortless movement. I really love this one! "Twilight" is a bit more piano-based, with a simple but lovely melodic line, a gentle rhythm, and ethereal voices. A Native flute joins about half-way in, sharing the melody and adding its own poignant quality. "Journey To Nowhere" evokes images of moving through vast, dark space, completely at ease, while taking in the beauty and wonder of it all. The title track brings us to the moment of creation. A bit more intense and mysterious, the exotic instrumentation and hypnotic rhythm wrap around the mind and spirit, drawing us in even deeper. Exuding a peaceful ambience, "Tripura Sundari" tells of passing through the Bindu and seeing all places, beings, and things bathed in a sacred light. "Turiya," the closing track, goes "beyond the beyond," melting into formless infinity.

If you are looking for music with strong traditional melodies and beats, Bindu might not work for you, but for a rich spiritual journey through inner exploration, I highly recommend it.
Reviewed by Kathy Parsons of the Mainly Piano website reprinted with permission on Ambient Visions