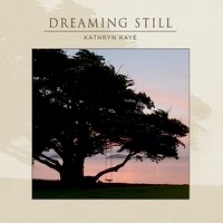 Dreaming Still
by Kathryn Kaye

Dreaming Still is the debut CD by pianist/composer Kathryn Kaye, and what an auspicious beginning it is! Produced and mastered by the legendary team of Will Ackerman and Corin Nelsen and backed by Imaginary Road's incredible musicians plus violinist Charlie Bisharat, Ms. Kaye has launched her recording career in a very big way. Some of the albums produced by Ackerman have a very distinctive sound, but Kathryn Kaye has established her own voice here, and it is lovely! Many of the fourteen tracks are solo piano, and there isn't a weak track on the whole album - very unusual!

Kaye grew up in the Appalachian Mountains of southeastern Kentucky and began playing the piano at the age of four. She majored in voice and keyboard in college and then moved to Germany to continue her training, performing as a folk singer and soprano soloist in concerts, recitals, operas, and on television in both Germany and the US. Her music has been influenced by the simple harmonies of folk songs and hymns, classical music, and the beauty of the Rocky Mountains where she now lives.

Dreaming Still begins with "Time Moving Slowly," a warm and graceful daydream of a piano solo. This one reminds me just a bit of Robin Spielberg, and that is a very sincere compliment! "Waiting For the Rain" is much darker and one of my favorites. There are two voices in the melody, one in the treble and one crossed over in the bass. The second movement brings in the cello (Eugene Friesen) and English horn (Jill Haley), and the third is a duet with Haley and Kaye that almost cries out with loneliness or loss. Amazing! The title track has an effortless, leisurely flow that meanders as it tells its gentle story. I love the way it trails off at the end - much like dreams do. "Leaf Dance" is an incredible duet with Kaye and Charlie Bisharat. The energy is exhilarating and then becomes tender - another favorite. "Smile For Me April" is a sweet love song for someone with the blues - simple and heartfelt. Haley's English horn enhances the beautiful simplicity of the piano. "April Did You Call Me" changes it up a bit with a song without words. Light drumming and Noah Wilding's haunting vocals in the background give this piece a very distinctive sound. I love "August Light," a gentle solo piano waltz that expresses warm contentment. This is one of those songs that makes my fingers itch! I also really love "Taos Song," an ensemble piece that again features Haley and Friesen. Pensive and deeply emotional, this one grabs me every time I hear it. The poignant "Fred's Farewell" has light hand percussion behind the piano that gives it a slightly Latin flavor. Gorgeous and very sad at the same time. Kaye ends this wonderful album on an up note with the sweet and happy "Mom and Pop's Waltz."

What a great album! I'm excited to learn that Kathryn Kaye is returning to the studio to record her second album in March - I can't wait! Dreaming Still is available from Amazon, iTunes, and CD Baby. I give it my highest recommendation!
Reviewed by Kathy Parson's Mainly Piano website reprinted with permission on Ambient Visions