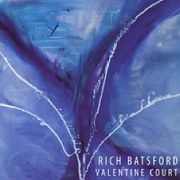 Valentine Court
by Rich Batsford
Valentine Court is the debut solo piano album by British pianist/composer Rich Batsford. The twelve tracks are a very interesting mix of gentle melodic pieces and pieces that are much more dramatic and edgy. For the most part, the quieter pieces are on the first half of the album, and then Batsford shows another side of his musical personality in the second half, pulling out all the stops. The variety of styles of playing and composing give a fascinating sampling of Batsford's musical range and very impressive playing chops.
Valentine Court begins with "Lyndall," a piece dedicated to Batsford's partner. Short, delicate, and very graceful, it's a beautiful opening. "So Steve" is a bit more experimental, with an abundance of swirling notes on one hand and a simple melody on the other. High-energy with lots of movement, I really like this one! The title for "Sensawunda" is a take on the phrase "sense of wonder," and is slower and very mysterious. Most of the first half of the piece has both hands in the treble clef, but about halfway into it, the left hand ventures down into the bass, creating a much rounder and more sensuous sound - a lovely and intriguing piece! "Namaste" is also a favorite. Quiet, elegant and flowing, it has an understated energy that soothes and comforts. I also really like "Jewel," a lovely vignette with a delicate middle section that could have stepped out of a dream. "The Cello Song" is sometimes performed with a cellist, but this version is a piano solo. More experimental than most of the previous tracks, the melody is in the bass of the piano while the other hand plays a repetitive rhythmic pattern in changing chords. It's a bit challenging, but also very interesting. The first half of "Completion" is much more upbeat and edgy, with pop/rock-influenced themes and rhythms. A soothing interlude enters in the middle of the piece and then returns to a variation of the first half - a real pianistic workout! "Ralph's Trip to the Orient" is played mostly on the black keys. The left hand has the melody while the right plays a lively figure with an Asian flavor. Next, we hear a door open and close and then nothing for six minutes - the artist and the audience are "Just Sitting." I was amused the first time through the album, and then found the long break somewhat annoying. "Chazzawakka" is something of a musical frenzy, giving the album a high-powered ending. Whew!

Valentine Court is a very promising debut! It is available from Amazon, CD Baby, and iTunes. Give it a spin!
Reviewed by Kathy Parson's Mainly Piano website reprinted with permission on Ambient Visions