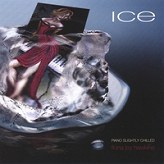 Ice: Piano Slightly Chilled
by Fiona Joy Hawkins
This will be my last 2007 review (a year full of really great music), ending the year on an up-beat! When Fiona Joy Hawkins' teenagers called her a "classical music nerd," the pianist/composer known for her "music to dream to," set out to prove a point. To these ears, she more than proved it, composing, arranging, and recording an album that rocks, rolls, and has one great big good time! "Ice: Piano Slightly Chilled" will get the stodgiest of classical music nerds dancing and toe-tapping, remembering why we old fogies loved instrumental rock music 'way back when groups like The Ventures and Booker T & The MG's showed us how much joy wordless music can hold and how it can stimulate the imagination. Listen up, folks! Fiona Joy Hawkins has moved into a new direction, and it really rocks. I love this album, and have had it playing with the volume cranked up for several days now. This is one album that packs in great music with imaginative(sometimes funny!) titles that are all on the chilly side. I hope Fiona's kids are eating some well-deserved crow and are seeing their mother in a whole new light!
Fiona Joy Hawkins wrote all of the music, plays piano and keyboards, and sings on the last two tracks. Dieter Kleemann brings his soulful rock guitar to four tracks, and some tracks feature bass guitar, didgeridoo, tarogato, and other acoustic instruments. Mostly, it's Fiona doing her own "cool" thing!
"Iced Rain" opens the album with a driving beat, lots of keyboard effects, and a simple piano melody that pours on the energy. Hmmm - this doesn't sound new agey at all! I like it! "Cloud Chill" begins with didgeridoo and then guitar and piano, with another infectious, driving rhythm. "Frosted View" chills it down a few degrees with a beautiful (but still very rhythmic), passionate piece that is melancholy and full of longing. "Antarctic Wings" and "Snow Bird" are the same song, but the latter has lyrics and the first is an instrumental - both are gorgeous. "Love In the Refrigerator" has to be a classic title, but the piece itself isn't silly or even light - slow and very effective. I like all of the pieces on this album, but "Winter Cold" is one of my favorites. Again very rhythmic and energetic, this piece really moves. The wordless vocals in the background add to the passionate piano/keyboard and give it the feeling of cool open space. "Frozen Rose" is an icy slow dance that contains the sound of howling wind in spots. "White View" is an alternative arrangement of "Frosted View" with more piano and a mild "eastern" flavor - both arrangements are wonderful in their emotional depth and passionate expressiveness. "Crystallized Love" features Fiona's sensuous vocals that sing of "freedom, love, touch, heat, ice..." and the sultry request to "crystallize me." Chills!
Already in the running for some major music awards for 2007, "Ice" should bring Fiona Joy Hawkins a whole new audience to her music. Cool to the extreme, check it out! It is available from www.littlehartleymusic.com, cdbaby.com, and amazon.com. Very highly recommended!
Reviewed by Kathy Parson's Mainly Piano website reprinted with permission on Ambient Visions