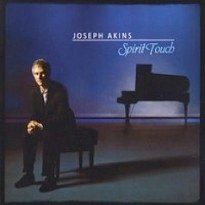 Spirit Touch
by Joseph Akins
Spirit Touch is the anxiously-awaited follow-up to Joseph Akins' very popular and critically-acclaimed 2007 release Masterpeace. As much as I enjoy Masterpeace, Spirit Touch blows me away. Akins wanted his new album to be more like his live performances, and that seems to be the difference. There is more variety in the music and Akins clearly demonstrates what an incredible pianist he is. A musician since childhood, he has the effortless grace of someone who has played the piano all of his life and is happiest with a keyboard at the end of his arms. This music incorporates more improvisation, giving a feeling of freedom and spontaneity.
I was lucky enough to see Akins perform in concert a couple of weeks ago, and heard some of this music for the first time there. I was impressed! All but one of the eleven tracks are originals, and about half of them are solo piano. This is sure to be one of my favorite CDs of the year.
Spirit Touch begins with "Spirit Prelude," a warm and inviting improvisation that sets the tone of the album. Cello accompaniment adds to the soulful sense of well-being. The title track was composed while Akins and his wife were mourning the loss of their 23-year-old kitty. Sad and reflective, the emotions expressed are honest and stirring. On the opposite side of the emotional spectrum is "The Butterfly Ride," a piece that gracefully glides through the air without a care in the world. "Cascades" is lightly orchestrated and has a gentle jazz rhythm that evokes visions of tumbling, sparkling water. I love this one! "Night Shadows" is another favorite. As the title suggests, this piece is dark, moody, and a little spooky - gorgeous! "Feeling Joy" returns to lightness and exuberance, dancing gleefully all over the piano. "Little Arwen" reminds me Michael Hoppe's simple, bittersweet melodies. A tender, heartfelt waltz, the piece was named for Joseph's newly-adopted kitten - I love this one, too! The exciting "Dance For My Ancestors" demonstrates Akins' impressive chops. Light and swirling with occasional dark accents, it has an infectious energy. "1001 Nights" is the most orchestrated piece on the album as well as the most dramatic. Based on a Middle-Eastern sounding scale with exotic rhythms and sounds (including Akins strumming the piano strings with his fingernails), the piece is mysterious, beautiful and a little bit ominous. This is my favorite ! "My Rainbow" is an improvisation that Akins dedicated to his wife. A sweeter love song there never was! The final track is "Tennessee Waltz," a piece Akins played with his father's country-music band as a youth after his dad taught him the melody one note at a time. Akins' arrangement is nostalgic and flowing, concluding one terrific album!
Joseph Akins has outdone himself with Spirit Touch! Give your own spirit a treat with this outstanding album! It's available from www.josephakins.com, Amazon, and CD Baby. Very highly recommended!
Reviewed by Kathy Parson's Mainly Piano website reprinted with permission on Ambient Visions