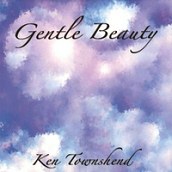 Gentle Beauty
by Ken Townshend

"Gentle Beauty" is the second release of healing music by keyboardist Ken Townshend. Aptly titled, this music is in the moment and has no hard edges anywhere. More ambient than melodic, the music creates a peaceful mood that invites a slower, calmer pace both physically and mentally. Several tracks feature the piano with keyboard accompaniment, and some have an Asian influence. Quoting Ken Townshend: "A quiet sacred space, and a feeling of pure peace and acceptance. An infinite mind, body and spirit. Authentic play and divine creativity is what 'Gentle Beauty' is about." Continuing: "It celebrates music through the feeling of an innocent child. It has Lucid feelings that are deep, and gentle but not emotional. Let gentle compassion embrace and hug you, just be and feel. Tell me your meaning. I have no meaning except to allow that infinite sacred space to manifest through the creative expression of music." This would be a perfect CD for meditation, massage, unwinding, to go to sleep to, or for creating a very peaceful ambiance. Listening to it actively takes you away from the stresses of everyday life and slows down that sense of urgency to run, run, run. It is a very effective aural tranquilizer!

"Graceful Soft Child" opens the CD with warmth, joy, and innocence that floats on a cloud or a lazy river. "Feeling Open Flow" is a favorite. Mostly piano, arpeggios explore the piano, soothing and calming as they roam. "Feeling Deep Within Beauty" is also mostly piano with some keyboard washes. At over ten minutes, this piece evolves leisurely and organically, leaving lots of open spaces between the notes. It is very easy to lose yourself in this music - so free and completely at ease. "Peaceful Healing" reminds me a bit of George Skaroulis - very open and gentle. "Sunset" is a shimmering guitar piece with stringed accompaniment and floating, ethereal sounds that paint a musical picture of the magic and serenity of a sunset. "Symphonic Universe" is another favorite with its feeling of vast openness and space. Angelic strings, keyboard, light percussion, guitar, and piano make up this "symphony" and float you away on a tranquil dream.

"Gentle Beauty" is a quiet and fascinating inner journey and a welcome respite from the noise and negativity that zap so much of our energy. It is available from cdbaby.com and amazon.com. Recommended.
Reviewed by Kathy Parsons reprinted from Mainly Piano on Ambient Visions