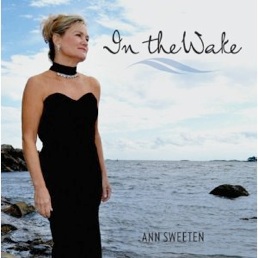 In The Wake
by Ann Sweeten

In the Wake, a metaphor for life, is pianist/composer Ann Sweeten's ninth album (plus two Italian compilations). Co-produced by Will Ackerman (who plays guitar on two tracks) and recorded at Ackerman's Imaginary Road Studios, the album features several acoustic instrumentalists on strings, flute, oboe, and English horn. Sweeten's graceful touch and fluid playing style are beautifully expressed on a Steinway baby grand (model B), and the sound quality of the music is flawless. Often tinged with melancholy, Sweeten's compositions have a dreamy quality that encourages the listener to kick back and just listen for a while, becoming immersed in the music and soothed by the gentle waves of sound. Ann Sweeten draws from vast life experience in the arts with her acting, singing, and dancing in addition to her music. She is also a staunch environmentalist, animal activist, and vegetarian. With so many means of self-expression available to her, it is no wonder that her music communicates so effortlessly.


In the Wake begins with "Was It Yesterday?" a nostalgic ballad for piano, guitar, and flute (Trisha Craig). Wistful and dreamy, the gentle flow of the three instruments sets a mood of calm repose and reflection. "Falling Leaves" becomes even more soothing and relaxed, and Akane Setiawan's English horn adds the perfect counterpoint to Sweeten's graceful piano. "Metamorphosis" weaves a series of musical themes together to create a lovely tapestry that tells a story of change and inter-relatedness. Sometimes flowing and almost harp-like, sometimes quite rhythmic, and sometimes quiet and still, it is a very effective piece. "Love Remembered" is an introspective daydream with a passionate undercurrent. Andrew Eng on violin and viola enhances the poignance of this piece. As the title suggests, "A Chance for Goodbye" is deeply emotional and sad, and Liz Ehrman's cello is the perfect accompaniment to the piano. "On Wings of Light" feels lighter and more optimistic, and Setiawan's English horn keeps the piece soaring to new heights. "Out of Embers," Ackerman's second appearance, is a favorite. Exquisitely gentle and dreamy, it seems to tell of hope and renewal - beautiful! My favorite track on this album is the more classical "October Sky," a passionate and bittersweet piece for piano and viola that would be an amazing tear-jerker in a movie soundtrack. "Now and Again" closes the album much as it began - wistful and peaceful. Cello and oboe make this a gorgeous, heartfelt trio that leaves the listener feeling refreshed and renewed.

In the Wake is sure to be another chart-topper for Ann Sweeten! Be sure to check it out at www.annsweeten.com, Amazon, iTunes, and CD Baby. Recommended!
Reviewed by Kathy Parsons of the Mainly Piano website reprinted with permission on Ambient Visions