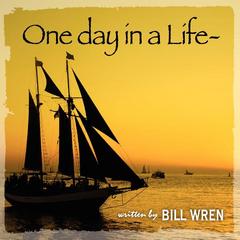 One Day in a Life
by Bill Wren

One Day In a Life is the debut release from "Texas Songbird" Bill Wren. Warm, lush instrumental music casts a spell and creates a mood of contentment and well-being. It is interesting to note that Bill Wren composed all of the music on the album, but he is not one of the players. Some of the music is quite orchestrated and some is guitar and accompaniment. Strings (live and programmed), percussion, keyboards, voices, sax, and penny whistle combine with the guitars to tell evocative tales that are visual and often have a cinematic sweep.
Focusing on the desire to move people with his music, Wren says," I want to create music that moves the heart in a positive direction." I would have to say that this music succeeds well in reaching that goal.
The title track begins the "Day." In this guitar piece with gentle percussion and keyboard in the background, Sandy Williams creates a peaceful scenario with washes of soft pastel colors. "Day Break" - the first-place winner of The Indie International Songwriting Contest - is more orchestrated, but cello and guitar carry much of the lovely melody. Warm optimism gives this piece wings. "En Mai" is one of my favorites. A duet for cello and guitar with light percussion and keyboard, the mood is serene and a little wistful. "Betrayal" is somewhat darker, with Sandy Williams again making magic with his guitar. "The Way It Was" has a substantial yet intimate sound. The sweet tones of the penny whistle suggest a Celtic influence, and it is easy to imagine this music playing behind images of a vast countryside in simpler times. "I Will Waltz For You" is very much a slice of rural Americana and is again very cinematic and graceful. "Old Friend" is gently nostalgic but also passionate and elegantly beautiful. "Lovers Rendezvous" is quite different from the other tracks, but it is also my favorite. Tom Washatka's haunting sax and Frank Ralls' sensuous piano along with the percussion and ambient background sounds make this a powerful emotional experience. The final track, "Heart To Heart," is mainly guitar and piano. Slow, graceful, and very tender, it's a closing that will leave you wanting more!
One Day In a Life is an auspicious debut! It is available from billwrenmusic.com, Amazon, CD Baby, and iTunes. Check it out!
Reviewed by Kathy Parson's Mainly Piano website reprinted with permission on Ambient Visions