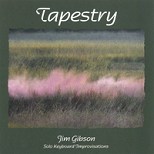 Tapestry
by Jim's Gibson
"Tapestry" is Jim Gibson's sixteenth album since 1996, and his first of all-original material. His previous releases of "cover" music have been marketed mainly to gift shops, historic sites, tea shops, and a mix of other kinds of specialty shops. In the course of doing commissioned work for a DVD about tea, Gibson rediscovered how much fun it is to create music, hence his newest release. All fifteen tracks are improvisations, and this time Gibson chose to record on keyboards rather than a grand piano, utilizing a variety of keyboard sounds. The son of a piano teacher, Jim Gibson grew up playing music. He started playing in dance bands in college, going on to teach English and college Music Industry classes; he worked as a writer/photographer for the Georgia Department of Education, and then started working as a commercial pianist some thirty years ago. Gibson's goal is to create music that is simple, direct, and relaxing, endeavoring to reduce the noise level in people's lives. His cover music is also improvised, and is generally assembled by themes such as hymns, music of the South, movie and Broadway music, and even music about tea. The music on "Tapestry" is quietly soothing, unhurried, and warmly inviting. It is also an unobtrusive musical backdrop for working, dining, and unwinding.
The appropriately-titled "Wistful Moment" begins the CD, setting a gentle, dreamy mood. The title track, is a study in pastel-tinted sounds woven together into an elegant whole. "Hidden Pond" is one of my favorites, hinting at Satie-like simplicity. "Solace" is played with a rich guitar sound that is gently soothing and very peaceful. "Blue Valley Dawn" is another favorite with its quiet grace and optimism. "Simple Song" resembles a children's song with its innocence and openness. "Pensivity" returns to guitar and sounds like late-night musings by candlelight.
"Sandra's Waltz" is a beautiful slow dance under the moon, a graceful reverie. "Slowdown" is a bit more abstract and unstructured, bringing visions of light dancing on tranquil water or maybe ripples in a lazy stream. "Windchimes" is also lovely, with images of a spring breeze invoking the occasional harmonies of beautifully tuned chimes. "Dappled Light" closes the CD with a gem that moves at its own pace, much like light moving through shadows, seemingly random, but quite purposeful after all.
It is always great to hear that a lifelong musician has found a different direction, and "Tapestry" is a good indication that Jim Gibson is on the right track with his new endeavors. This and Gibson's other CDs are available from www.hickorycovemusic.com, cdbaby.com, and amazon.com. Recommended for quiet times and for soothing background music.
Reviewed by Kathy Parson's Mainly Piano website reprinted with permission on Ambient Visions