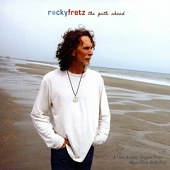 The Path Ahead
by Rocky Fretz

The Path Ahead ... And Steps Then Taken is pianist/composer Rocky Fretz's eighth album to date, but my first exposure to his music. Where have I been? This outstanding album was produced by the legendary Will Ackerman and won the 2009 Independent Music Award for Best New Age Album - with very good reason, I might add. Most of the twelve tracks are solo piano, but Ackerman and some of the Imaginary Road Studio regulars including Ackerman himself (acoustic guitar), Eugene Friesen (cello), Jeff Oster (flugelhorn), Michael Manring (fretless bass), T-Bone Wolk (electric bass, mandolin, accordion), and Noah Wilding (vocals) appear on a few ensemble tracks.
The music is varied, ranging from delicate and soothing to more upbeat and energetic, clearly demonstrating Fretz's versatility as an artist.I have heard some really good music so far this year, but this is near the top of the list. Warm, passionate, and optimistic, this is music to savor over and over again, discovering new things each time.
The Path Ahead begins with "Kim's Song," a gorgeous piano solo written for Fretz's wife. Gracefully flowing with just a touch of country flavor here and there, it's a heartfelt tribute. "Leave It All Behind" is slow, dreamy, and introspective. "New Life Lullaby" brings in subtle bass and Noah Wilding's haunting voice, adding washes of soothing color behind the gentle piano melody. "A Pleasant Stay" is a lazy, warm piece of solo piano tranquility - beyond "pleasant" and more like "blissful"! Love it!!! "Steps Then Taken" picks up the tempo, adding percussion with an infectious rhythm, jazz strings, and guitars to the piano, this time more of a percussion instrument - an awesome collaboration. Great stuff! "All We Are (Is In This Moment Now)" is a stunning ballad that overflows with deep emotion and elegant beauty. "Childhood's Hymn" is a quiet, reverent meditation. I really don't have a favorite piece on this album - they are all exceptional - but if I had to choose just one, it would probably be "Thoughts Are Us," a soft-spoken but powerfully emotional duet for cello and piano. Will Ackerman's "Pictures" is the only piece that wasn't composed by Fretz, and this graceful and evocative piano solo is a lovely addition to the eclectic mix. "Stickney Brook Dance" is a study of the constant movement of a brook: sometimes slow and lingering, sometimes rushing, sometimes deep, sometimes shallow, always sparkling and pure. "The Path Ahead" begins as a slow, thoughtful piano piece with guitar accompaniment. The second movement is much livelier, adding percussion and strings as well as a sense of excitement and adventure. What a fantastic album!
If Rocky Fretz is new to you (or if he isn't), trust me and get yourself a copy of The Path Ahead. They don't get much better than this! I give it my highest recommendation. CDs and downloads are available from www.rockyfretz.com, Amazon, CD Baby, and iTunes.
Reviewed by Kathy Parson's Mainly Piano website reprinted with permission on Ambient Visions