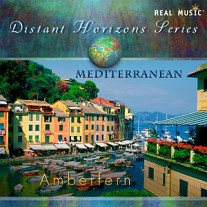 Disntant Horizon Series:
Mediteranean
by Amberfern

Amberfern aka Clive Brooks is a composer whose forte is meditative music that is very peaceful and contemplative. He creates soundscapes that let the listener bask in the atmospheric music that he so skillfully performs on each of his musical releases. Amberfern has spent over 30 years in the music business and has worked at composing, production and has even taught music as well. He lives and works in the midst of England's New Forest National Park and I'm sure that this natural environment has had a significant influence on the music that he composes. His style is a melding of world music and classic new age compositions and I say that with the utmost of respect. I have always enjoyed listening to a great new age album and will never get tired of hearing one that is done as well as Amberfern's new release is.
According to the liner notes on the CD this will become a series of albums for Amberfern which will take us on musical voyages along the paths less explored by a modern world too intent on rushing everywhere at the speed of light. His new album which will be available on May 8, 2012 from Real Music is called Distant Horizons Series: Mediterranean. To borrow from the liner notes, "the destination is the ancient Mediterranean. From the beautiful beaches of the Balearic Islands to sun-kissed mountaintop villages, you'll crisscross the region." The album was recorded and mixed at the Green Room Music Studio located in the New Forest National Park, England which I'm sure only adds to the feel of the whole project. In fact the name that he has chosen to be recognized by, Amberfern, comes from all the ferns that grow close by in the forest woodlands which in autumn turn a golden amber color.
In the liner notes I was amazed at how many different instruments Amberfern plays on this album. Just to name a few that are listed he plays Spanish guitar, electric double bass, fretless bass guitar, oud, grand piano, Fender Rhodes piano, flutes and synths. And this list doesn't cover half of everything that he plays on this album so it is easy to see that Amberfern not only composes great songs but is accomplished in a variety of instruments to make just about anything he can musically imagine come alive in the studio. With this album Amberfern presents us with 11 tracks of music that covers quite a lot of musical geographic ground and runs for about 62 minutes in length.
As I listened to this album I found that I was unable to pick out what instrument that Amberfern played that made me think that this was what defines this album. Truth is that with each track and with each instrument that he played I found the music just as compelling as the song that had come before it. Each song showed me that Amberfern truly was a multi talented multi instrument musician who does not display any weaknesses as he switches between instruments from song to song. Some of my favorite songs on this album are song 9 called Lemon Grove which features an introspective acoustic guitar that goes back and forth with a flute and finally adding some synths in the background giving the whole composition a dreamy, otherworldly feel to it. On the last song on the album called White Sails, Blue Sea it opens with the cry of seagulls and then slides right into a song that features Amberfern on guitar, flute and keyboards. His light touch on the guitar is very appealing and it is a perfect song to end this album as it leads you deeper into a state of tranquility as the music drifts away from you. My other favorite track is number 3 called Deya which opens with chime bells almost like a call to the faithful to a deeper spiritual or meditative state in a temple. This is primarily a guitar piece but the song is made even better as he adds the piano parts a little ways in creating a rich sound pallette on which to paint his sonic images upon.
From the chanting voice that opens the album on track one called Ottoman Palace to the serene ending on track eleven Amberfern's music is intimate and inviting. His promises to take us on "relaxing and beautiful musical voyages along routes less traveled, to the quieter and more spiritually peaceful corners of the world" are fulfilled in this the first of his Distant Horizons albums. He has crafted his music to musically recreate the places that exist in his mind using a plethora of instruments designed to draw out the essense of each of the locations that he wants us to journey to through his music. His songs are soothing and reassuring. Sensitive and inspired. Amberfern is a highly talented individual capable of taking the concepts of place and translating them into songs which capture those exotic places that many of us only ever read about. The overall feeling of this CD is one of peace and serenity. Something we all need more of in the 21st century. Definitely recommended by Ambient Visions.
Reviewed by Ambient Visions