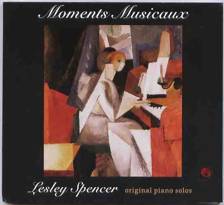 Moments Musicaux
by Lesley Spencer
Composer Lesley Spencer has created a solo piano masterpiece with "Moments Musicaux," her tenth full-length CD, which also commemorates the tenth anniversary of her indie label, Gabriella Music. Ms Spencer utilizes her vast musical training and experience to effortlessly bridge the classical and contemporary genres with music that is sometimes light and playful and sometimes very dark and haunting, with other pieces somewhere in between - much like life itself. The sixteen pieces are complex enough to satisfy the discerning classical music aficionado but still accessible and melodic enough for the more casual listener who wants some great music to relax and unwind with. The title of the album recalls a suite of pieces by 19th century composer Franz Schubert, and like Schubert's beloved collection, this album contains a variety of moods and musical tales about life and the characters in it. Charming and compelling, I think this is Spencer's strongest work to date.
The first musical moment is "Dance of Life," a piece that swirls and spins with energy and excitement. With only a few pauses to catch its breath, this pieces just keeps moving. "Child's Play" brims over with such lighthearted innocence that you can almost hear children laughing in the background. One of my favorites is "Fellini Waltz," a wonderful minor key tribute that is compelling, ironic, and very Italian - much like the filmmaker who inspired it. "The Lost Baby" is a tragic piece that goes right to the heart with its emotionally wrenching melody and haunting mood. "Ode to Harry Potter" is another favorite. Mysterious, lively, and energetic, it captures the spirit of the boy wizard. "Piano Suite II" is a group of five shorter pieces. "Morning Edition" is frenetic, describing the rush of the morning commute and getting the day started in a big city. "Scherzo," which means "joke," is lively, playful, and full of fun. "Little Jazz Waltz" is a carefree little dance. "Rainy Day Theme" is wistful and dreamy. And then "Force of Nature" storms in, turning everything dark and mysterious. "Waltz For Keegan" is a tender waltz written for a friend's son who died of leukemia a few years ago at the age of eight. It's a beautiful remembrance.
I should probably mention that I had the opportunity to edit the piano sheet music for this collection before I heard the finished CD, and the music is as much of a joy to play as it is to listen to. "Moments Musicaux" is available from www.lesleyspencer.com, amazon.com, cdbaby.com, and iTunes. Very highly recommended!
Reviewed by Kathy Parson's Mainly Piano website reprinted with permission on Ambient Visions