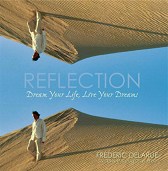 Reflection
by Frederic Delarue
Frederic Delarue is establishing himself as one of the foremost composers of so-called new age music, and is one of a few whose CDs are always interesting, soothing, and compelling. Delarue's albums have basic themes, and previous releases have been about the magic of dolphins, classical composers "coming to play with Delarue," spiritual voyages, etc. The common threads are consistently superior music, an uplifting spirit, and the statement that the music was created with guidance of Delarue's angels and "beings of light." (It is well worth a visit to www.fredericdelarue.com to read his amazing biography.). The subtitle of this latest release, "Dream Your Life, Live Your Dreams," sums up the thematic material, and there is a dreamy, graceful quality from start to finish. Delarue writes in the liner notes: "I invite you to reflect on the events of your life and surrender them to peace & love and bring forgiveness to yourself and anyone involved." Can a collection of eleven original pieces of music accomplish all of that? When it comes to Delarue, I think it's possible. None of the tracks are solo piano, but they are all piano-based with keyboard orchestrations. It is interesting to note that in the liner notes, the track titles are formatted in such a way that they create a short, evocative poem.

The opening track, "I Feel," conveys the deep sense of spiritual contentment and connectedness that come too rarely in our rushed and over-scheduled lives. Listening to it, I can feel my breathing slow and go deeper, and the sense of urgency that has been plaguing me of late starts to melt away. "Beneath the Footprints of My Sole" has the feeling of gently floating in vast open space that Delarue does so well. The effortless flowing broken chords on the piano are hypnotic as the more ambient background coaxes you to a dreamy state of mind. Passionate as well as soothing, this is an exceptionally beautiful piece. "Caress My Spirit" begins with ambient voices that reverberate in a large space - perhaps a cathedral or even a castle. About a third of the way through, the piano enters with a much lighter melody. The piece melts into "With Tender Passion," with its floating vocals and air of mysterious calm, supplemented with flute and subtle keyboard effects to gorgeous effect. "Beyond Eternity" lightens the mood quite a bit with a warm and graceful waltz. "I Remember" incorporates the simple melody of the Pachelbel Canon with strings and piano. It isn't an exact rendering of the piece, but certainly suggests it. "The Power of Silence" becomes much more thoughtful and reflective - almost dreamlike, with shimmering strings and a quietly pensive piano. "I Am Free" closes the album with a bittersweet and passionate waltz that tugs at the heartstrings. What a lovely ending for another great album from Frederic Delarue! That I now want to get out his previous CDs and listen to them again says a lot.

"Reflection" and Frederic Delarue's other CDs can be purchased at www.fredericdelarue.com and amazon.com. Highly recommended!
Reviewed by Kathy Parsons reprinted from Mainly Piano on Ambient Visions