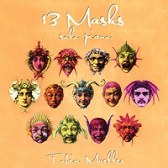 13 Masks
by Tobin Mueller
13 Masks" is Tobin Mueller's follow-up to his 2005 release, "Morning Whispers." Full of musical surprises, Mueller interweaves jazz, 20th century classical, "post-New Age solo piano," and what Mueller calls "progressive ragtime," and blends them through the "chaos of his subconsciousness." (quotes from the liner notes) Mueller's stories, told through the medium of solo piano, are often whimsical and funny, but this is no lightweight piece of entertainment. The music is complex and often challenging, but is not so esoteric to be intimidating. I found it fascinating the first time through, and enjoy it more each time I hear it. This is music for active listening, and most people will not find it relaxing, (it wasn't intended to be). The cover artwork, also done by Mueller, depicts the thirteen masks of the title. Of those masks, Mueller explains: "More than masks that hide the truth, these are meant to be interior faces of the subconscious that whisper, lear (sic) and assert themselves in ways known and unknown." I love these drawings and their variety of expressions. Tobin Mueller is obviously a very accomplished artist in many genres, but says the true highlights of his life have more to do with "sitting in front of my keyboard, all alone."

"13 Masks" opens with "You Make My Heart Skip a Beat," a lively and rhythmic piece that dances all over the piano. The middle section slows down and becomes more pensive, gradually building energy and intensity, returning to the original theme at the end. "The Gumshoe Wears a Rag" is a bit more playful (how could it not be with a title like that?), but is still quite intense. "Memories of Elegance" has a melodic theme that goes through many transformations and rhythmic treatments - fascinating! As its title implies, "The Stillness of Wings" is one of the quieter, more subdued pieces, and its primary theme has a light, engaging rhythm. "Chaos of the Subconscious" is a wild, frenetic ride that explores a variety of themes and ties them together as a kind of nightmare - another really amazing piece. "A Monk Caught in a Thelonious Sphere" is dark and bluesy, but still a lot of fun - one of my favorites. I also really like "Holding Breath With Ophelia," which is more exploratory, venturing into different themes and rhythms, occasionally returning to the original. "I Sail On (Into Deeper Waters)" is quite chaotic and turbulent. "The Last Mask Falls Away" has a strong feeling of vulnerability and honesty. With quiet moments and occasional deep bass notes, nothing is covered up or embellished. It is a powerful conclusion to an amazing album.

Tobin Mueller has created a conceptual work of art with "13 Masks." Not everyone will appreciate it, but if you enjoy a truly unique album with music to really sink your teeth into, give this a try. "13 Masks" can be purchased at www.simig.com/records, cdbaby.com, and iTunes.com. Recommended!
Reviewed by Kathy Parsons reprinted from Mainly Piano on Ambient Visions