Having discovered Windham Hill and Narada music at about the same time I was well aware of the ensemble approach that the labels employed to offer listeners wonderful music that extended the talents of one artist by pairing them with several equally talented musicians in the studio. The album would be released under the individual artistís name and the other musicians would traditionally be credited as guest performers on the main artistís album. Let me be clear right from the beginning about FLOW the album and FLOW the group this is not individual musicians guest starring on each otherís compositions with each taking a shot at the lead throughout the album. Instead this is a group effort start to finish and as I listened to each of the songs I didnít get the feeling that one song represents Ackerman, one song represents Fiona and so on. Every composition represented FLOW as a performing group plain and simple.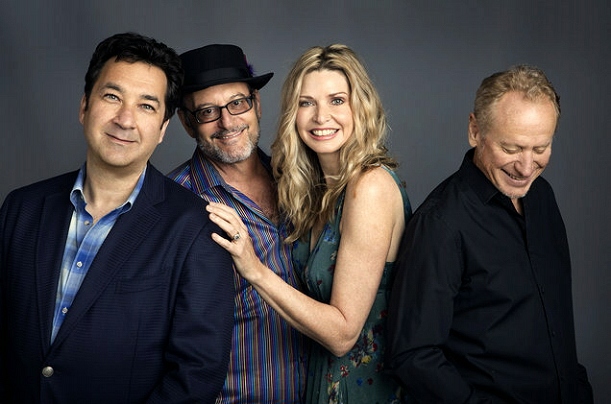 In case you didnít already know FLOW is an acronym for the members of the group. F is for Fiona Joy. L is for Lawrence Blatt. O is for Jeff Oster and W is for Will Ackerman. Each member is quite distinguished as a musician, composer and performer in their own right but bring them all together and you have the equivalent of the superstar groups that have been occasionally formed in the rock world such as Power Station, CSNY, Asia or the Traveling Wilburys. So even before I sat and listened to the album I knew that I was in for a treat even if the album took the approach that many ensembles do which is to spotlight each member and their contribution to the whole while the other members supported each otherís moment in the sun. Thankfully the members of FLOW took another route that would yield a cohesive whole which is much more powerful and pleasing than listening to musicians take turns playing their music.
It wasnít a conscious effort on my part but I found myself not listening to the album to pick out the individual performances but rather to enjoy that album as an organic whole as it was meant to be experienced. It was a gratifying aural journey to hear these four remarkable musicians set aside their ambitions or expectations about what the album should be in favor of allowing it to be formed entirely through their interactions as a group into something greater than each one would have been capable of doing on their own. FLOW consists of 11 exquisitely crafted songs that showcase what these four musicians are capable of creating and performing as FLOW and not as solo artists. The overall feeling of this album as expected is one of contemplation housed within a peaceful and atmospheric framework that is apparent from the beginning of track one all the way through the end of the album.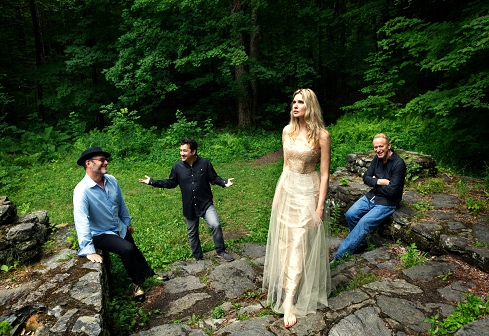 The first song on this album is called Arrival which is very fitting. I say itís fitting because it heralds the arrival of this group of individuals who will be journeying together musically for the time being. I donít know if there are plans to do it again but for now their paths have converged and the resultant music provides us with some very emotional music that reassures us that the new age sensitivities that birthed Windham Hill and Narada are alive and well here in the 21st century. Arrival quickly demonstrates how the intertwining of F.L.O.W. creates a smooth, rich sound that weaves a musical tapestry that instantly engages the listener and lets them know that the time spent basking in the light of this album will be time well spent.
I think that my favorite composition is the title cut Flow which is the 3rd track on the album. It embodies precisely what these four musicians were trying to accomplish with this project. It is the perfect melding of their talents within the context of a song that does not spotlight any one of them. The song is a positive, life affirming song that also offers a tranquil interlude mid song and towards the end so that the listener might spend a moment thinking about the beauty that life has to offer them in a quiet moment alone with their thoughts. It is a moment to be thankful for what life has given us and to take that thankfulness with us each day as we once again move forward. They were able to bring two contrasting themes together and merge them seamlessly into music that (pardon the expression) flows out of the heart of the group and flows into the heart of the listener. Iím sure that Tom Eaton who is Will Ackermanís longtime production partner had a hand in gently nudging the music that was created during these sessions into something extraordinary. Kudos to Tom. In the promo sheet that arrived with the CD Tom was lovingly referred to as the Fifth Beatle and I can surely believe that about him after having spoken with Tom at length in an interview that I did for my website Ambient Visions.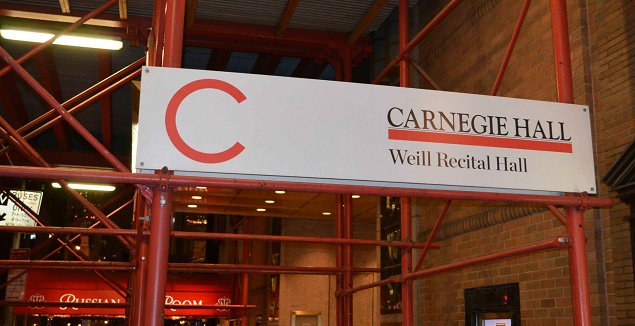 FLOW - LIVE at Carnegie Hall on 10.6.17
Suffice it to say that I thoroughly enjoyed this album. These world class solo musicians became a world class group simply by recognizing that before anything else the music they were creating came first. At times the songs on this album reminded me of the early new age music that I so loved from the 90ís and at other times it had a definite late night jazz lounge feel to it. Then there were times when it felt like the compositions were taking a look at the potential of music when talents are shared without the need to receive individual credit for what was created. Perhaps this is the future of true collaborative music and maybe in the years ahead we will see more of it. The album is filled with silky smooth instrumental music that has a conversational quality about it and you will find much to love and to talk about as you make your way from first to last and then even more as you do it again and again. I singled out Flow as my favorite song on this album but it was a very tight race to choose any of them as being better than the others. I invite you to step into the ďflowĒ of this album which is resplendent in what it has accomplished and wander the lush soundscapes that FLOW offers the listener. It will be available on October 6, 2017 and if you are close enough to New York and Carnegie Hall be sure to catch their album release performance there on October 6 as well. Definitely recommended by Ambient Visions.
Reviewed by Ambient Visions