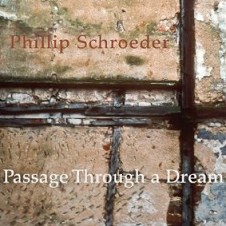 Passage Through A Dream
by Phillip Schroeder

Passage Through a Dream is the latest release from American composer Phillip Schroeder. A faculty member at Henderson State University in Arkansas, Schroeder has taught at several other universities and colleges and received a Doctor of Philosophy in Music Theory/Composition from Kent State University. He is a dedicated New Music advocate who has performed and conducted the music of many living composers in addition to his own work.

Schroeder was raised in a military family and began studying music at a very early age. His background includes playing trumpet in concert bands, singing in boys and mixed choirs, playing electric bass in rock and jazz bands, conducting orchestras and chamber groups, playing with experimental improvisation ensembles, and performing on piano. With such diverse musical influences, it is no wonder that Schroeder's music reflects a broad range of music genres and is always evolving. Passage Through a Dream would be categorized as experimental and classical, and presents a somewhat challenging experience for listeners. The album is well worth listening to several times to absorb the layers and nuances of the various instruments and voices as well as the ethereal quality produced with the extensive use of digital delays. Schroeder also multi-tracks to create the illusion of playing several instruments at the same time. The album includes five individual pieces that are related enough to sustain a dreamy, floating feeling from beginning to end.

The title track begins the album with the sound of trills played on a piano. A duet for piano (Schroeder) and clarinet (Michael Henson), the continuous trills give the piece a shimmering quality while the slowly flowing clarinet is cool and peaceful, suggesting effortless movement through space. " A Necessary Autumn" is darker and more mysterious. Schroeder is again on piano (three of them!) and electric bass along with Marty Walker on clarinet. Very slow and almost mournful at times, the piano's lightly percussive touch is a fascinating contrast to the velvety sound of the clarinet. "Oceans of Green" features Michael Henson on clarinet, Jamie Lipton on euphonium, and Schroeder playing four-hand piano. Suggesting peaceful images of vast open space with gentle breezes creating ripples in the "oceans of green," the mood of this piece is one of calm contentment and pastoral beauty. "On Occasion" is dark yet leisurely, with clarinet (Walker), Rick Dimond on accordion and vibraphone, and Schroeder on electric bass. Slow, graceful motion with occasional musical sparkles, it flows slowly and peacefully. "Sky Blue Dreams" features soprano Erin Bridgeman along with flute, clarinet, bass clarinet, vibraphone, harp, and piano. Bridgeman's voice becomes another instrument that adds its own unique colors to the piece. Very open and spacious with slow, easy movement, the floating, dreamlike quality is soothing and calming.

Passage Through a Dream is very highly recommended to more adventurous listeners who enjoy experimental music with substance and style.
Reviewed by Kathy Parsons of the Mainly Piano website reprinted with permission on Ambient Visions