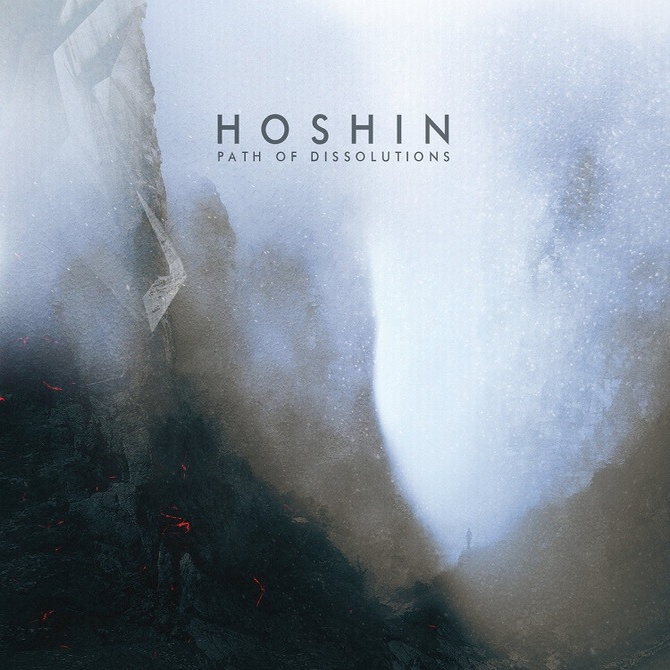 Path of Dissolutions
by Hoshin

or on Facebook
or on Bandcamp
My ventures into nebulously engrossing dark ambient domains are rather rare, but as we know there is no rule without exception, so why not to dive occasionally into these fascinating terrains. Without any doubt, "Path Of Dissolutions" is the right time for encountering these magnificent realms. I didn't have any idea about Hoshin, nor about its creative mastermind, a Belgian soundsculptor Xavier Hoshin Heindrichs until his debut "Path Of Dissolutions" was announced on US dark ambient authority Cryo Chamber. Out since September 13th, 2016 in ambiguously inviting 6-panel digipak designed by Cryo Chamber's driving force Simon Heath, who is also handling the mastering duties. I remember clearly the day when the CD was officially introduced on Bandcamp, it left me breathless right away and I immediately rushed to contact the sole protagonist behind Hoshin.
The journey unfolds with "Tender Deadlocks", which quickly grabs my attention with immersing interactions between urban sounds and various rumblings with strong subterranean feel, while expansive washes slowly emerge and permeate across labyrinthine subtleties. A truly precise amalgamation of enigmatic location recordings and majestically sweeping panoramic sinuousness. A top-notch introduction of Hoshin's soundworlds! The next piece "Souvenir From The Sacred" incorporates more dark ambient fragrances, when coalescing some transient industrial strikes with organic elixirs and assortment of voices ranging from public to praying. But the show is again later stolen by sneaking warm atmozones meticulously counterpointed by embracing, delicately detailed rainy quietudes. A 6-plus minutes of true sonic ambrosia is served here! Rumbles ascending from unfathomable depths announce "Drop Out The Fruitless", while drifting solitudes quietly commingle. Mysteriously intriguing cavernous spices are precisely equalized with increasing graceful panoptic washes. My ears are bathed in massively immersing beauty, more please!!! "Lone" is seeking for oracular vestiges, where slowly crescendoing drone stratum bridges with perplexing helixes, breathing machineries and ear-tickling metallic scraps, while intangible groove ephemerons continuously resurface across utterly breathtaking horizons. Enter now magically awe-inspiring solitudes!!! On "The All Is Aflame" contemplatively echoed wood crackling in a fire amalgamates with mesmerizingly spiraling ominous magnitudes and remote grumbles. But this fascinatingly hypogeous splendor is inconspicuously pervaded by persistently elevating evocative layers. Another big one! No doubt here, with pieces such as "Drop Out The Fruitless", "Lone" or "The All Is Aflame" Hoshin is knocking on the gates of Ambient Hall of Fame! Bravo, Xavier!!! Monochromatic drifts on "Dissolving Steps" shift the journey into jaw-dropping solitary realms, before fastidiously blending with hissy shoreline reminiscences and then clandestinely transmuting into warmly inviting cinematic panoramas titillatingly reinforced by puzzling fragments and elusive rumbles. Mysteriously desolate hums reveal "Ruins In Focus", while arising washes calmly guard above and neutralize slightly harsher, yet perpetually mesmeric spirals. Towards the end transmogrifying into transcendental territories, where also the closing "How It All Ended" dwells. Distant thunder hums are invaded by amplifying subterranean magmatic layers, but the center stage is almost engulfed by meandering majestic blankets, masterfully counterpointing with monumental murmuring undercurrents. Yeah, a truly grandiose conclusion!
53 and a half minutes long "Path Of Dissolutions" album, where each track clocks between 5:27 and 7:25, showcases an absolutely sophisticated soundcarving by its creator, where every detail is polished to perfection and the balance between eerie and enrapturing passages is exquisitely accomplished in order to reach an ultimate equilibrium. Although I am not a dark ambient aficionado and expert, I feel this album gains a quite unique position in Cryo Chamber's roster with its splendiferously enigmatic, yet by far more ambient colored spirit. So who knows, maybe this will be a turning point and I will be visiting their discography more often. So kudos to Simon Heath/Cryo Chamber for unveiling the talent of this Belgian!!! This is undoubtedly a really sensational and triumphant premiere by Hoshin!!! Xavier, you can be really proud of "Path Of Dissolutions" CD!!! And by the way, I am very grateful for the pralines as well, so I definitely stay tuned for more...
Reviewed by Richard Gürtler © (Dec 18, 2016, Bratislava, Slovakia) reprinted on Ambient Visions
Visit Richard at his Ello site by clicking here