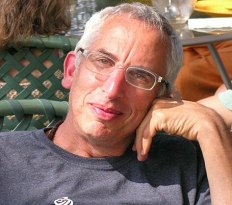 Lloyd Barde
Former Owner/Founder
of Backroads Music
---
AV would like to thank Lloyd for giving us permission to reprint this article on the AV website.
Making Sense of the Last 20 Years in New Music
by Lloyd Barde ©2000
No portion of this article may be reprinted without prior permssion.

A new musical style has been developed and defined over the past twenty years, and I believe that is long enough to consider it to be a genuine category. Yet it remains arguably nameless, controversial within the industry, and a mystery to even the most avid listeners and music aficionados.
Music styles emerge as reflections of the culture and lifestyles that are transitioning during that time. The development of Jazz in the '30's and '40's portrayed changing values, new found freedoms, creative expression, and the liberation of musical forms that had previously been held in a tighter, more structured way. During the '50's, jazz opened up even further in different directions simultaneously with key artists like Miles, Bird, Webster, Gillespie, Sanders, Kirk, Taylor, Hawkins, etc. Jazz is a totally acknowledged category, in spite of the many different types of jazz, and nobody debates its existence or acknowledgement.
Similarly, the spectacular breakout of rock music and the revolution that accompanied it in the '50's again mirrored the changing values, new found freedoms, creative expression, and the liberation of musical forms that had previously been held in a tighter, more structured way! As this style moved into the '60's, it expanded and opened up even more musical vistas, as the British invasion, blues-rock, psychedelic flower power, heavy metal and the like permeated every cell of the culture. New composers, new paradigms, new visions, and new sounds all joined together, often playing off each other. They laid down the creative friction that fed the fires of an exploding musical expression that served a smorgasbord to a hungry audience and fueled the fast-rising industry that thrived on it. Rock grew through its adolescence, survived the growing pains of the '70's and '80's, and moved quite comfortably through the erratic nineties fully armed with hip-hop, rap, pop, electronica, alternative and an entire army of singer/songwriters that, once again, ably reflected the life and times of the current culture, complete with its own changing images and ideology. Many types of music fall into this category, and the same can be said for Country music or Folk Music as well as Blues, Reggae and any other styles you might like to identify. Each has the "traditionalists," the modern envelope-pushers, the "copycats," and those who manage to combine the old and the new in ways that might not have been done quite the same as before.
Why am I telling you all of this? Because I find such an obvious parallel within the musical styles that I am citing above.
So here we are again, trying to introduce and answer the question of just exactly what is this new music that I am offering as a new category all to itself. Before we get to the nomenclature, let's take a look at some of the diverse elements that are all part of this intriguing recipe. How about solo pianos, Celtic harps, tribal didgeridoos, guitars of all kinds, intricate electronic weavings, drumming extravaganzas, sequencer-driven electronic music, Native American flutes, chants and Pow Wow songs, World Beat, Afro-Pop, South American, Far Eastern, Middle Eastern and Near Eastern flavors, singer/songwriters, chants, sacred choral traditions, Women's Music, Electronica, Chill-Out music, trip-hop sounds, Ambient Dub, Ambient Space, and just plain Ambient -- whatever that is!
A Harmonious Convergence
As levels of consciousness began raising in Western culture, at Esalen in Big Sur, at ashrams in the Northeast, at communes in Tennessee, at ranches in Ojai, high in the mountain canyons of Colorado and New Mexico, and at darshans in front of real and would-be gurus coast to coast, an accompanying soundtrack of complementary music was certainly required. For the most part, it was quiet, acoustic, gently eastern, and very much on the mellow side. Artists like Steven Halpern, Georgia Kelly, Michael Stearns, Constance Demby and Iasos were creating music in the burgeoning Bay Area and southern parts of California, each with very different approaches and instrumentation. Will Ackerman and George Winston were discovering new acoustic styles that would establish Windham Hill as a new label with a new sound. Suzanne Ciani was building one of the world's finest electronic music studios to support her work in the corporate commercial industry before embarking on her own journey into romantic electronic weavings. Across the Atlantic, Brian Eno, Tangerine Dream, Jean Michel Jarre, Vangelis, Klaus Schulze and others were taking their rock backgrounds into electronic worlds with extensive use of synthesizers, pioneering approaches to sampling, early signs of electronica and other ways of employing new technology. The word ambient was coined in regard to music, and experimental electronic textures were being called Space Music for the first time on American radio shows across the nation. Interestingly, this period of experimentation and discovery changed direction and funneled back into the worlds of rock, techno and rap music, as we know them today.
First there was the Rhythm
When this style of music began entering the awareness of music listeners, in the late '70's and early eighties, its ability to relax, soothe and open up space is generally what set it apart. Then began the beat &ldots; as artists like Gabrielle Roth, who used live drummers in her movement workshops, and Mickey Hart, Grateful Dead member and drummer extraordinaire, first released titles that featured steady drumming tracks. At the same time, Brent Lewis, also from a rock background, was tying 22 chromatically tuned drums together for some of the catchiest beats heard up to that point, known as "Earth Tribe Rhythms," and Michael Shrieve, famous for his stint as a teenager with Santana (remember the "Woodstock" movie where he "made it rain"?!), was joining forces with German legend Klaus Schulze for a release called "Transfer Station Blue". Others like Barbara Borden, Glen Velez (master of the frame drum) and the renowned Babatunde Olatunji, who is credited for bringing drums to the western mainstream, have each made significant contributions to this world of rhythmic music. Now you can hear a wealth of rhythmic approaches across dance floors, on the radio, and in stores or catalogs that sell this music, whereas before the main emphasis was removing the drums, keeping a lid on the activity, and slowing the music down to a safe comfort zone. The roof has been blown off, and the beats are spreading!
Where in the World
Since this melting pot of styles and cross-cultural influences comes from the four corners of the globe, it is no surprise that many countries sport their own influential musical signatures in this broad musical grouping. Many African voices have been heard on labels like Real World, Narada, and even Windham Hill lately, with names like Ayub Ogada, Samité, Remmy Ongala, Henri Dikongue, Papa Wemba and Wes each providing distinctively soothing and inspiring sounds. South American groups like Inti-Illimani, Inkuyo, Echoes of Incas and Sukay have, to varying degrees, incorporated Western arrangements and structures into their own breathy, rhythmic musical portraits. A German group called Cusco has made a career out of sampling the Andean sounds and weaving them into their catchy, commercial, contemporary sound. Traveling further East, we find Jai Uttal, who has four releases on the Triloka label that join Indian complexities with Western spirit, combining vocals from India with Sanskrit mantras and chants supported by an ensemble that is at home in free-form, odd signatures propelled by penetrating rhythms and excellent instrumentation. From way down under in Australia's outback we hear the music of Adam Plack aka Nomad. Like Jai he combines the music of a particular culture with his westernized interpretation, and sings through his own personal expression. Nomad's two releases range from gritty, hard-driving aboriginal chanting and traditional song form to songs sung in English that could parallel those of Peter Gabriel or Steve Winwood. Recently, local DJ legend Cheb I Sabbah has constructed an even bigger melting pot by combining his "DJ Science" with traditional vocals and instruments from India into a heady brew of past meets future/East meets West, all from a deeply spiritual and danceable angle. Kirby Shelstad incorporates his studies in Tibetan Buddhism into his recent "Dewachen: Land of Bliss," a seamless blending of Eastern vocalizing with western sensuality and potent musical settings. The World Beat/World Music explosion of the past few years has been well documented, with some pointing to Paul Simon (re: "Graceland") and others to Peter Gabriel (re: "Passion") as responsible for the mainstream feeding frenzy. Ultimately it is a truly world-wide phenomenon, with many groups reaching prominence, from Zap Mama to Afro-Celt Sound System to Transglobal Underground. Each of these combines several cultural influences with one foot firmly planted in today's modern eclectic/electronica movement. The common ground is composed of drums, instruments both traditional and modern, and voices that have the ability to shake the very world we live in.
I Hear Voices
When this music first began to be noticed twenty or so years ago, one thing that was apparent was that there were very few vocalists in this primarily instrumental arena. An artist named Sophia (who was then known as Sande Hershman) had a couple of tapes of healing, celebration songs, Singh Kaur, from the Sikh community, had a couple of mantra tapes, and Robert Gass was leading his group On Wings of Song in some extended chant recordings. And a select group of singers and songwriters were issuing various tapes, but they were few and far between. In fact, industry-wise, it was difficult for vocalists to find much receptivity in this growing area of music, in spite of a certain amount of interest and relative success in selling their tapes at concerts, events, etc.
Clannad was, at the time, a little-known group from Ireland, but from that band came an album by the lead singer's little sister, whose lengthy Gaelic name was shortened to Enya, and the rest, as they say, is history. Enya's first couple CDs became million sellers, and her beloved style of endless layering of heavenly vocals on top of ultra lush orchestration was truly an unbeatable blend. Her spectacular videos and series of releases has established her as an icon in today's music world, and on a global level. Shortly after, we all discovered a Canadian singer who was refining her Celtic roots and attracting a devoted following. Her name is Loreena McKennitt, and on her recent releases you can even hear Moroccan influences, as she broadens her reach into more exotic world music elements. She is also a world-wide success with critical acclaim for each of her seven releases and enthusiastic praise heaped on her live shows (recently captured as a new 2-CD set "Live in Toronto & Paris"). Suddenly there are vocalists galore, from South Africa's Miriam Stockley, whose voice is better known than her name, from her work with the group Adiemus (in the Delta Airlines commercials), to Patrick Bernhardt, another Canadian who is like a "male Enya," to Sheila Chandra, who started a style called Indi-Pop years ago and now has a string of releases for Gabriel's Real World label. Celtic artists, such as Connie Dover and Maire Brennan (Enya's big sister!) seem to be everywhere these days, and Native American singers, like Joanne Shenandoah or Walela (Rita Coolidge's group), are also becoming more well known.
Now there are a number of well-known vocalists in this music, such as Kirtana, Shawna Carol, Nada Shakti, Deva Premal (whose 1998 recording "The Essence" is one of the defining chant CDs), Kathy Zavada, Steve McDonald, Rachel Bagby, and groups like Vas, Ceredwyn, Flesh & Bone and others. Worth special mention are the two releases by East Bay artist Jennifer Berezan who combines extended chant form with world music influences and a deep spirituality that is extremely moving and transformative. Both "She Carries Me" and "Returning" are absolute must-haves in my opinion.
In any event, words and voices, as well as wordless vocals, are now not only a welcome part of this music but an integral one. Many artists choose to place the music in the foreground in order to trigger listeners through their emotional being so they can focus on the music and the images created rather than anchoring to the words. At the same time, a lot of artists have much to say, and the ways that the messages are framed within the musical settings are fascinating to explore.
We all need more Space
One unmistakably identifiable category that has come out of this musical development is Space Music. And that does not necessarily mean "Space Out" music! Historically, there are similarities between some traditional or classical music and the synthesized sounds that came from the first wave of experimental electronic composers, and the spacious feeling that one could derive is where they connect. "Space Music" now defines and describes an entire sub-genre, as a listening experience that evokes the feeling of space -- inner space (floating sensations, opening doorways to internal experiences, stimulating the imagination); or outer space (drifting through weightlessness, passing galaxies, hearing imaginary sounds of space). Space Music can create or conjure up 3-D sound images with psychoactive tone colors and evocative associations of timeless experience. It is therefore ideal for late-night stargazing, for focused meditation, for drifting off to sleep, or for background atmosphere in settings such as counseling, hospitals, treatment centers, retreat spaces, brainstorming rooms, etc. While you might have heard music like this at the local Planetarium, Space Music is experiencing a grass roots revival of late, with many new Space Music composers joining the ranks of the classic artists who paved the way twenty years ago. Originally there was Michael Stearns ("Planetary Unfolding"), Jonn Serrie, the primary Planetarium composer world-wide ("And the Stars Go With You"), and Steve Roach ("Structures from Silence"), and these three remain as the cornerstones of the Space Music realm. Roach has become the leading artist in Space Music these days, and he continues to pioneer new styles, blending multiple sound worlds and experimenting with fractal/mandala/groove rhythms that co-exist with deeply, probing space textures. David Parsons, who lives in New Zealand, also has several releases of serious Space Music that do a lot more than float. Robert Rich is a Bay area artist who has examined many styles from the inside, including some ethnic instrumentation and dark, somber musical ideas that remain inviting. Jon Mark, who played with John Mayall and others in the British Rock scene before discovering his own musical "voice", Constance Demby, who coined the phrase "Sacred Space Music" and Richard Burmer are three others with a catalog of titles that have influenced a whole new generation after them. Today's crew of promising composers includes Jeff Pearce, Liquid Mind (great name! -- actually the works of Chuck Wild who has experience with Michael Jackson, Patrick O'Hearn & others), A Produce (another great name -- the work of Barry Craig), Robert Carty, Biff Johnson, Meg Bowles (one of the few woman artists in the Space genre) and Belgium's Vidna Obmana. Any music with a generally slow, relaxing pace and space-creating imagery or atmospherics may be considered Space Music, without conventional rhythmic elements, while drawing from any number of traditional, ethnic, or modern styles. And since we all need more space&ldots; how about getting some?
What is Ambient Anyway?
Thanks mostly to Brian Eno, the term ambient was used in reference to music as a result of his series which debuted with "Music for Airports: Ambient Music 1" in the mid-'70's. His intention was to create music that was as easily ignorable as it was listenable. Rather than sonic wallpaper, it would have the ability to sit comfortably in the background or be immersed in deeply. The term was somewhat obscure but useful, and was somewhat forgotten until it returned full-force in the mid-'90's -- only this time with a very different meaning. Ambient had come to mean music with a rhythmic or trance-like nature, using (generally) electronic keyboards and/or Space Music melodies or themes. Notably, it is the consistent combination of varying elements that provides a common thread or theme throughout ambient music. Today's ambient music, usually referred to as "Nu Ambient" or "Ambient Dub," means full of rhythms, for dance or trance, body movement or mind relaxation mode, and often sounds floaty or "groovy," with drop-out beats, tribal treats, ethno-primitive elements, and textural and/or cyber-phonic music. Curiously, the previous view or definition of ambient music suggested no rhythm, carving backgrounds that were potentially fertile foregrounds, a la Eno, Harold Budd, Roach, Stearns, or early Tangerine Dream. (Nu) Ambient music grew into its own genre out of the "chill-out" rooms that became a part of the rave scene, a place to escape the pounding, throbbing techno beats (often in excess of 160-180 beats per minute!), where DJ's mixed together nature sounds, Space Music tracks, and tape loops or other sound samples. As greater skill emerged in the molding of these sound spaces, CDs were issued which were usually compilations, like "Excursions in Ambience," "United States of Ambience," "Ibiza Chill Out (reviewed this issue)," "Feed Your Head," "One A.D. (Ambient Dub)," etc. As we watch the ever-evolving growth and fast-rising acceptance, of this genre, we often hear terms like "mutated," or "deconstructed" - i.e. anti-categorization at best.
Do You Hear What I Hear?
If you have been able to follow along, you will probably notice that I have refrained from naming this music. And I am not going to! There are many types within this whole, and the sum is equal to its parts. The appeal of a musical style, or grouping, with a range from massage to dance, from shamanic to tribal, from meditative to contemporary is across the board, and brings this music completely alive and vital. And if you are hearing what I am hearing, you are probably well into it already, Each "type" has its own history, its own cornerstones and "hall of fame "artists and titles. Each has crystallized and grown, achieving greater artistry over time, and has become more recognizable in the marketplace. A more far-reaching answer addresses the real challenge, which is dictated by today's machines i.e. synthesizers, and how their use and placement is balanced by humankind's ability to interface with the machines. Man's inherent ability to adjust artistic integrity in keeping with the times demands sensitivity to the roots, the spirit of the music, the calling of past generations and the need for continuing originality. More in this new hybrid music than perhaps anywhere else is this challenge being met; that is why people are responding so favorably to the combining of elements -- rhythm'n'space, tribal and cross-cultural intermixes that open the mind and move the body.