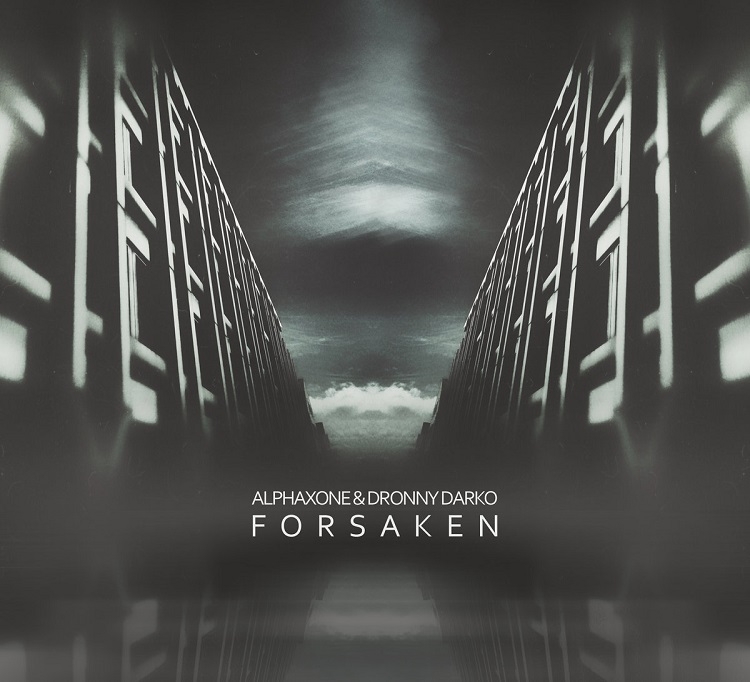 Forsaken
by Alphaxone & Dronny Darko
Visit Cryochamber at:
Richly international roster of Cryo Chamber label offers here another thrilling collaborative project! Last summer I have deeply focused on "Stardust" album, where Iranian soundscaper Mehdi Saleh aka Alphaxone joined his forces with Ukrainian dark ambient explorer Sasha "Cats" Puzan of ProtoU. On "Forsaken" Alphaxone connects his creative insignias with the second half of Puzan's couple, with Oleh, the sole purveyor behind Dronny Darko. The team is completed by Niklas Lövgren, who is responsible for the visual splendor, while Cryo Chamber's Simon Heat customarily takes care of the mastering job. "Forsaken" CD comes in a 6-panel digipak and it's out since August 22nd, 2017.
6-minute "Beginning" reveals with distant flickering traceries and hissy gossamer shimmers, while massive unfathomable undercurrents slowly permeate and transmute into staggeringly embracing horizons, here and there percolated by elusively clicking glimpses. "Immersion" unsurprisingly unlocks the portal to the magnificently expansive realms, where massively humming monochromatic monoliths carve transcendental helixes and persistently commingle with warmly celestial choirs and lighter, intangibly titillating glitches. It's a big one, I could easily drift with this one for much longer time than only 4-plus minutes! Anyway, it's quite obvious "Enter The Gates" now follows! High-tech-organic vistas continuously juxtapose with heavier drone stratums relentlessly cascading into jaw-droppingly magnifying vertexes. "The First Convolution", with 6:40 the longest piece on "Forsaken", masterfully amalgamates noisier, ear-tickling sparkles with efficiently spiraling infinite abyssal vestiges. Delving deeply into spellbinding zones where translucent fragments meticulously conjugate with gaping drone escalations. Another precisely fitting track title! "Dissolution Of Thought" safely glides through the expansive voluminousness although rather euphoniously quieter than sonorously leviathan. With 5 minutes maybe a bit shorter, please slightly longer scenario next time! But stunningly engulfing track, bravo!!! "In Between" follows the path too, more subaqueously serene, yet reinforced by an array of evanescent rumbles and blips. Mind-bending listening delight! "Approaching" dives into hazily ominous terrains, where solitary signals merge with cyber-biotic harmonies, no matter if pervaded by industrial-infused ambiguities or by obfuscated derelict quietudes. Closing "Outlying" is driven by oracular choirs and phantasmal voices, then metamorphosing into hushed tenebrous pathways and slowly fading away on the wings of calmly murmuring solitudes.
I feel the pauses between some tracks are a bit abrupt, I think possible overlapping would be by far more transporting and as mentioned above, maybe I would go for lengthier journeys on few particular masterpieces. But otherwise 45-minute "Forsaken" is a truly exquisite collaboration between two highly crafted and strongly respected Cryo Chamber soundsculptors. Great album, great synergy, Mehdi & Oleh!!! I am not informed if Alphaxone has something new in the stove, but Dronny Darko has released in the meantime his next album on Cryo Chamber entitled "Black Hive" (March 2018). And on the top of that Oleh is also one half in the projects Hivetribe (jointly with his wife Sasha) and Cryogenic Weekend (together with Oil Texture). "Foreign Winds" CD by Purl & Hivetribe is out since September 2017 on Spanish Faint imprint (sub-label of Archives), while Cryogenic Weekend's "Polar Sleep" 3xCD was released during February 2018 on Swedish Reverse Alignment label. Lots of top-notch dronescaping adventures await here!!!
Richard Gürtler (May 20, 2018, Bratislava, Slovakia)