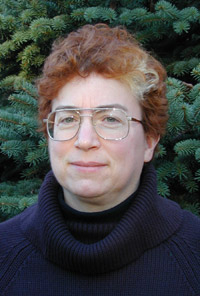 Hannah M.G. Shapero
I was born in Boston, Mass. and grew up in theBoston area and in Rome,Italy. My father is a classicalmusic composer, Harold Shapero. My mother, Esther Geller, is an artist. Their heritage of art, music, andhigh culture has been my joy all my life.
I studied Classics--Greek and Latin--as an undergraduate atBrandeis University and as a graduate at Harvard. I was also active as an artist and writer during that time. In 1978 I left academia for an art career, and in 1981 became a professional artist. I have studied art at theBoston University art school but most of my training has been with private teachers, especially my mother.
My specialties in art are science fiction, fantasy, and architecture. I also do commercial illustration,usually for real estate and computer-related advertisements. I have done many science fiction bookcovers, magazine covers, interior illustrations, and countless private commissions.