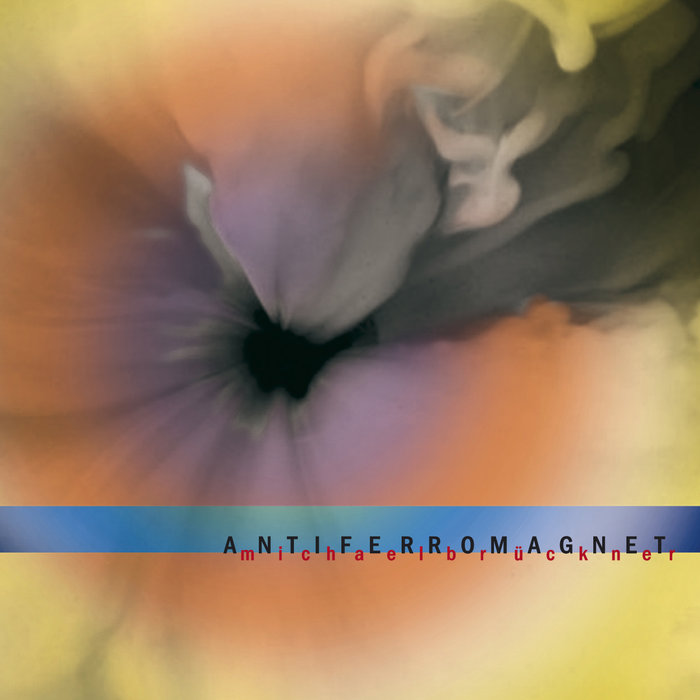 Antiferromagnet
by Michael Brückner

As I have mentioned several months ago, when focusing on Michael Brückner's "Eleventh Sun" CDr, this German sound designer is known for his flamboyantly extensive discography with many well hidden gems. And I think that's the case with "Antiferromagnet", an album, which was recorded mostly during one day in 2003 and then revisited and given the final touches in 2006, before self-released by the artist at the same year. I believe it's not easy to find out a lot of background info on this rare recording and as far I know, this album is one of those which are not featured on Michael Brückner's Bandcamp site. Well, I am quite sure Michael will reconsider this, because it certainly deserves to be explored by a wider audience. Although I think the album can be ordered on request via Bandcamp as a digital download or as a physical CDr edition. "Antiferromagnet" comes with a 4-panel front insert and is packaged in standard jewel case. Visually rather more ambiguously inconspicuous, connected to the theme, but it really matters what's "inside".
The album, comprised of 13 rather shorter pieces clocking between 2:39 and 7:10, unfolds with "Terbsee", a strikingly enigmatic composition merging mostly distant, sinuously reverberating, gauzy rumblings and tinkling lyrical passages. Seamless transition into "Pharn" follows and the listener remains in quite unique, mesmerizingly flavored zones reinforced by abstrusely hallucinogenic oscillations. "Avatiano" incorporates weirdly meandering patterns, permeated here and there by wrinkled surges and ear-piercing pinnacles. Otherwise the track clandestinely glides into serenely enrapturing horizons efficiently counterpointed with tenser transitions. "Haun Toshu" brings back the mind-expanding meridians experienced on "Pharn" and shifts them into bizarrely sculpted realms of tumultuousness. "Epók" marks an escape into relatively quieter terrains, yet occasionally percolated by titillatingly high-pitched tides and other mildly twinkling subtleties. "Dish" delves deeper into oracularly infused fields highlighted by foregrounding tinkling gradation backed by surreptitious drone sinuousness, while ephemeral puzzling fragments sporadically emerge. "Nekkan", the longest track on "Antiferromagnet", keeps firmly on the path of intensely immersing nebulousness, where warmly enthralling epic motifs, at times almost cinematic, are perforated by radiating pungent glimpses and strangely obfuscated helixes. All exhaustively guarded by wistful hissy drifting stratum. More please!!! "Kailas" is as much mysterious with its unfathomably dronescaping amorphousness exquisitely amalgamated with glimmeringly ear-bending cyber-tech ventures and sharply jangling eruptions. Another powerfully intriguing scenario!!! Weirdly weeping cello-like arrangements announce "Ozession", but soon freakily crescendoing sonic escapades steal the center stage, then during the second half rather calmly evanescing, although still pervaded by subtly irregular climaxes. "Deep String", as indicated by its title, mingles poignantly obscure stringed tapestries with solitary fragments and elusive clinks. Rather minimal throughout, except few magnifying culminations towards the end. "Ympho" remains in shadowy terrains, where mournful resonations commingle with gliding scenic expanses. Shorter "Tjachariva" displays a palette of metallic-charged rumbling undulations, before metamorphosing into the closing "Home", which is comprised of intensely droning monochromatic layers juxtaposed with cyber-tech glances, delicately mindscaping chinks and serpentinely encircling magnitudes. Undoubtedly a very strong conclusion!!!
Yeah, I am still a fan who knows a rather small part of Michael Brückner's massive discography, but "Antiferromagnet" has fastly became one of my fave recordings by this German soundforger. It continues to grow on me with every new exploration as the album continuously exposes a handful of peculiar soundcarvings. And what really counts on a 63-minute long "Antiferromagnet" is the strong "scientific" focus, relentlessly propelled by magnificently labyrinthine arrangements!!! Sure, to my taste quite bizarre at times, even nearly driving me insane at some moments, but always grippingly venturesome and distinctively engrossing. Well-accomplished, Michael!!!
Reviewed by Richard Gürtler Guest Reviewer here on Ambient Visions (May 14, 2016, Bratislava, Slovakia)