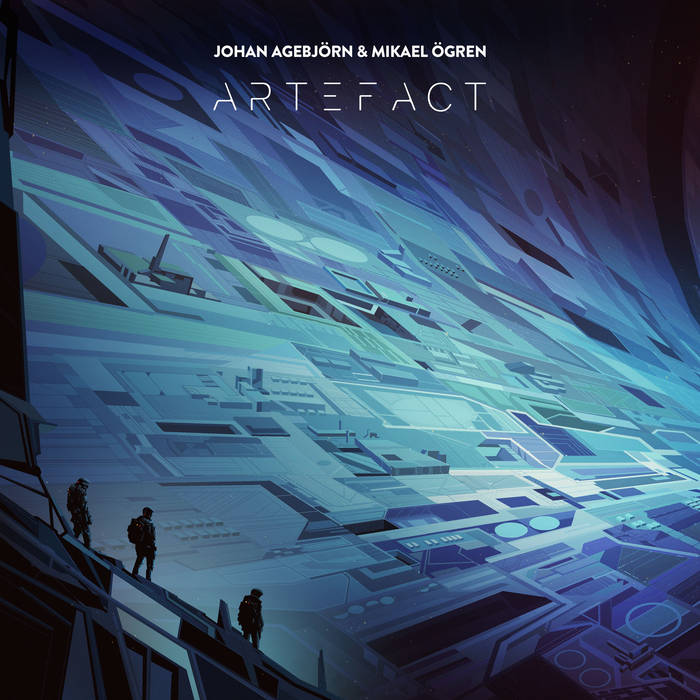 ARTEFACT
by Johan Agebjörn
& Mikael Ögren
It is dark in deep space, the feeling is ethereal, kinetic, and layered. Here, there is no need for words, but there is a little chatter on the intercom. This is the cool, vast feeling conveyed by ARTEFACT, a music tribute to RENDEZVOUS WITH RAMA, the 1973 classic science fiction novel by Arthur C. Clarke. This new release by Johan Agebjörn, Mikael Ögren and friends is an adventure in electronic music that pays tribute to the classic science fiction diegesis, a story that raises more questions than provides resolutions. Their music awakens the hidden colors of sci-fi fiction: bright, brilliant; celestial, glittering, soundscapes with soaring echoes, pulsing and beating patterns. We get the sense we are headed into the unknowable future, and there is no turning back.


The sounds are pure electronica, fantastically engaging beats and sweeps, beeps and melodies, with lots of fast moving effects. Each song has special synthesizer qualities and all of them flow into a beautiful mix, there is a very specific story here. It is a high-energy release for the Spotted Peccary Music label, which has enjoyed a relationship with Agebjörn since his original label release, Mossebo. In 2017 Agebjo¨rn and O¨gren released an ambient electronic album on Spotted Peccary Music called We Never Came To The White Sea, a soundtrack to an unedited roadmovie through Russian Karelia, where Agebjo¨rn's grandfather was born, when it belonged to Finland.


In listening, one imagines that you are falling slowly through wind and darkness, with other spaceships swaying and moving, seemingly to the music. We are traveling through the melancholy of a long journey in the cosmos. The feeling is complex as we move through the tracks: at times bittersweet and positive, the sound is dreamy and electronic with lots of sustained echoes and glowing atmospheres, decorated with a pulse, sometimes conveying urgency. It works well for dreaming, as well as for launching your voyages into deep fantasy, as if living and experiencing science fiction.

The gear is always an interesting part of the journey: Access Virus Indigo II, Alesis Micron, Clavia Nord Lead 2, Kurzweil K2000, Novation Supernova, Propellerheads Reason 11 with Korg MonoPoly, Roland DJ-70, Roland JD-800, Roland JP-8000, Thoraiz AS-1, Waldorf Blofeld, Yamaha AN1x, all blend into the ethereal atmospherics and electronic sounds of a classic sci-fi soundtrack, traversing styles ranging from ambient to trance.

"Extravehicular Activity" and "Passing the Gates" were co-written and co-performed by Stefan Strand, also on the Spotted Peccary label, and known as Between Interval. Strand is an old friend of Agebjörn, they would watch science fiction movies together and have made remixes of tracks for each other in the past. This is the first time that they have collaborated on original tracks. Agebjörn got to know Strand through a Swedish internet forum for electronic music, and it turned out they happened to live in the same city (Lund).

"Octapod" was co-written and co-performed by Johan Emmoth, aka Le Prix, whom Agebjörn got to know when they were both published by Universal Music Publishing in Sweden around 2009. They made a few tracks and remixes together in disco/synthwave style during the years after, some of them for Agebjörn's project Sally Shapiro, but this track is their first collaboration in many years, and more ambient/experimental than the earlier ones.

The vocals on "The Hall of Vocals" are by Martina Björk, who managed to catch the very special, kind of sacred, ancient feeling and combined it with the almost melancholic, sad sense of abandonment that saturates the very moment of the Rama story that this song is trying to depict. Outside of this, Martina has been involved in other projects, like folk music and such; she is also an expert in Latin.

The album's futuristic illustrations are by Kilian Eng, with additional graphics and packaging design by Daniel Pipitone. Eng's science fiction art is astounding, he enjoys a robust following on Instagram: https://www.instagram.com/kilianeng/

Both peaceful and propulsive, Artefact is a journey through the tension and beauty of space exploration, the fear and curiosity of alien contact, the majesty of stars and the great swaths of emptiness between them. The album released May 21, 2021 on Spotted Peccary Music CD format and in 24-BIT AUDIOPHILE, CD QUALITY LOSSLESS, MP3 and streaming formats.

Find your platform of choice here https://orcd.co/artefact or on https://spottedpeccary.com/shop/artefact/
Tracklist:
1. Extravehicular Activity
2. Passing the Gates (with Between Interval)
3. The Plain
4. The Storm That Passed
5. Flight Over the Sea
6. Static Air
7. Octapod (with Le Prix)
8. Monitoring the Zooids
9. The Hall of Crystals (with Martina Björk)
10. Interplanetary Threat
11. Space Travel
12. Final Sight
About Johan Agebjörn:
Gothenburg-based Swedish producer Johan Agebjörn works in a range of electronic genres, from electro-disco and house to ambient new age, but always grounds his approach in a deep appreciation for the roots and history of electronic music. Agebjörn had been largely focused on ambient electro productions inspired by fellow Scandinavians like Krister Linder and Biosphere.
About Mikael Ögren:
Mikael Ögren is a Swedish synthesizer musician heavily influenced by electronic pioneers such as Kraftwerk and Jean Michel Jarre, as well as '90s trance innovators Jam & Spoon. A priest by profession, he's been active as a musician mostly as a hobby until he began collaborating with Agebjörn during the mid-2010s.
Related Videos:
Artefact Unboxing Video
https://www.youtube.com/watch?v=ZWzlX923GuM

Track 6 "Static Air"
https://www.youtube.com/watch?v=RAKtXEKOyb0

Track 8 "Monitoring the Zooids"
https://www.youtube.com/watch?v=CC62R_9FLzI

Track 11 "Space Travel"
https://www.youtube.com/watch?v=E_B_Dtp_0MQ

Official shop page: https://spottedpeccary.com/shop/artefact/

All platforms: https://orcd.co/artefact