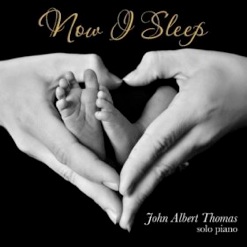 Now I Sleep
by John Albert Thomas

John Albert Thomas' beautiful solo piano album Now I Sleep was inspired by the work of Now I Lay Me Down to Sleep (www.nilmdts.org), an organization of 7000 volunteer photographers who take "remembrance" portraits of families with a newborn baby who has either died at birth or has little chance of survival. These portraits are provided at no cost to the families with the purpose of providing healing and comfort by "honoring their child's legacy." John Albert Thomas interviewed ten families who had lost newborns and then composed music in memory of each baby. He also shares each family's story in the accompanying 12-page booklet included with his CD. While all of this seems overwhelmingly sad, the music is graceful, uncomplicated, and very soothing. A thread of hope runs through each piece, making the album a welcome addition to any solo piano collection.
The father of four children himself, Thomas mentioned to me that he was often moved to tears as he composed this music. He also said, "It's difficult to explain, but sometimes it felt like I was watching myself compose. At the risk of sounding presumptuous, it honestly felt like God gave me the music in those moments at the piano and I got to participate (and worship) in His music project. It still leaves me speechless and humbled at times. So He gets the credit for the good in it." Each piece tells a different story, but all are composed and played with such love and gentleness that it's impossible to pick favorites. This is obviously a very unusual album, but the bottom line is that all of the piano solos are quiet and heartfelt, offering feelings of peace and calm.
John Albert Thomas is offering free (or "name your price") digital downloads of Now I Sleep from his site, www.johnalbertthomas.com, in addition to the CDs. The CDs contain two bonus tracks that are not included in the digital version as well as the 12-page booklet that brings even more meaning to the music. The two bonus tracks are Thomas' arrangement of "Baby Mine" from the Disney movie Dumbo and "Scandalous Grace," composed for a young lady on her 21st birthday. Now I Sleep is available from www.johnalbertthomas.com, Amazon, iTunes, and CD Baby. Recommended!
Reviewed by Kathy Parson's Mainly Piano website reprinted with permission on Ambient Visions