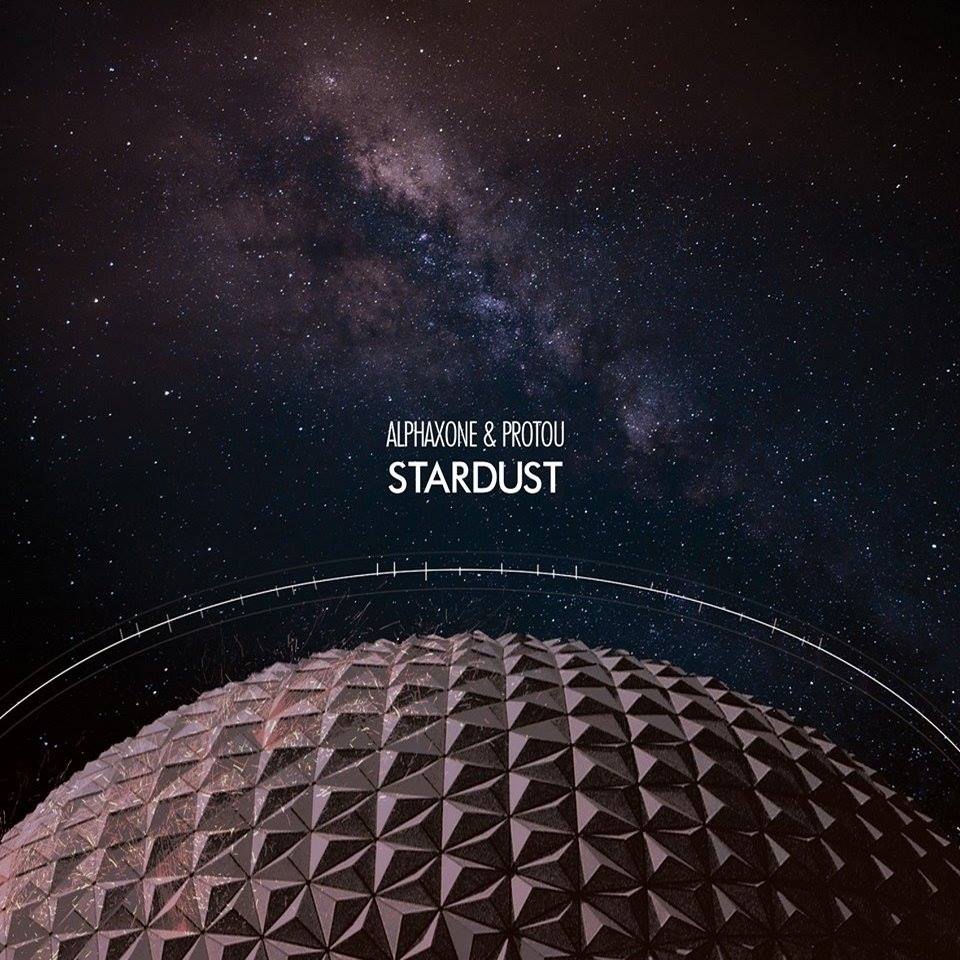 Stardust
by Alphaxone & ProtoU
Visit Alphaxone & ProtoU's Bandcamp site

or on Facebook
Although Iranian deep space soundforger Mehdi Saleh aka Alphaxone and Ukrainian dark ambient venturer Sasha Cats known as ProtoU are debuting in my review section, both of them belong to already established names on acclaimed Cryo Chamber label. Actually to be correct, few years back I reviewed another project by Mehdi Saleh, his stunningly triumphant "Broadcast" CD as Spuntic released on Dutch Databloem label during 2014. I have been deeply fascinated by "Stardust" since the very first days sometime during January 2017 when Cryo Chamber introduced the first tracks of this collaborative project and I immediately knew I want to review one day this spectacular odyssey. Out since January 24th, the CD comes in an attractive matte 6-panel digipak, designed and mastered by Cryo Chamber's trailblazer Simon Heath.

Distant monolithic hums and translucently titillating field recordings announce the opening 9-minute "Consumed". Warmly nebulous stratums inconspicuously invade, glide, wave and commingle with auxiliary cybernetic signals, rumbling vestiges, glimpsing voice fragments and outbursting vertexes. The next piece, "Planemo Dreams", only slightly shorter than "Consumed", is driven by massive monochromatic drone walls persistently confronted with invasive cyber-organic tapestries, delicate metallic flickers and engrossingly nuanced and balmily reflective expansions. Spellbindingly immersing soundscape!
Throughout "Observing Quasars" the listener is shifted into voluminously enthralling solitary realms, sculpted by mesmerizingly spiraling enigmas bathed by devastating immenseness and continuously permeated by intricately climaxing meridians, mind-bending celestial reverberations and intangibly clattering debris. "Versus" swiftly returns to earthier terrains, but the journey is soon stolen by awe-inspiring magmatic movements softened by diaphanous tinkles, swirling shimmers and ambrosial chirpings, yet euphoniously magnified by calmly disruptive vistas. A truly astonishing amalgamate of transcendentally gargantuan static dronecarving and lighter, luminously-charged and tranquilly embracing enhancements. Profoundly authentic insignias of both protagonists are exquisitely alloyed into a powerfully engulfing aural spectacle transmogrifying versus into a pure equilibrium. And "Sub Signal" tightly follows this staggeringly transporting path where the heavyweight abyssal drone sonorousness with an array of unforeseen artificial ebullitions fully blossom. Enter now beyond the gates listening ecstasy!!! Bravo, Alphaxone & ProtoU!!! The depth of two previous tracks masterfully metamorphoses into distinguishing bizarreness of "Alignments", where weirdly helixing layers meticulously juxtapose with towering eruptions and traversing, nearly cinematic horizons. A rather shorter piece, but efficiently intriguing and freakily enveloping! Another top-notch sonic collusion! Unfathomable drone serenely arises, but incandescent sparks are those who ignite the closing "Returned" and navigate it into magnificently enrapturing realms propelled by tremendously panoptic drifts, gracefully sweeping and guarded by vaporously impalpable gleams. Wow, I could easily imagine the last two tracks much longer, but I am quite sure Mehdi & Sasha just wanted to save some sonic gifts also for the next chapter...
Although clocking over 44 and a half minutes mark only, "Stardust" is for me absolutely phenomenal work impeccably showcasing the talents of Alphaxone & ProtoU, who have superiorly merged their creative forces on this conspiracy. Huge kudos to both, Mehdi Saleh & Sasha Cats, and obviously deep respect to Simon Heath & Cryo Chamber for keeping its roster internationally flamboyant and thus allowing such challenging joint efforts like "Stardust". Yeah, certainly be prepared for much more, because ProtoU has most recently teamed up with US soundsculptor Bryan Hilyard on "Alpine Respire" CD, this one is out on Cryo Chamber since July 25th. And Alphaxone is joined on the brand new CD "Forsaken", which has just released two days ago on the same label, by the second half of the Puzan's couple, Sasha's husband Oleg, the sole creator behind respected Dronny Darko project and one of the significant members of the Cryo Chamber gang. This undoubtedly must be enough reasons for you to delve deeply into ambiguously flavored domains... So you can't say I didn't warn you!!!
Reviewed by Richard Gürtler (August 24, 2017, Bratislava, Slovakia)