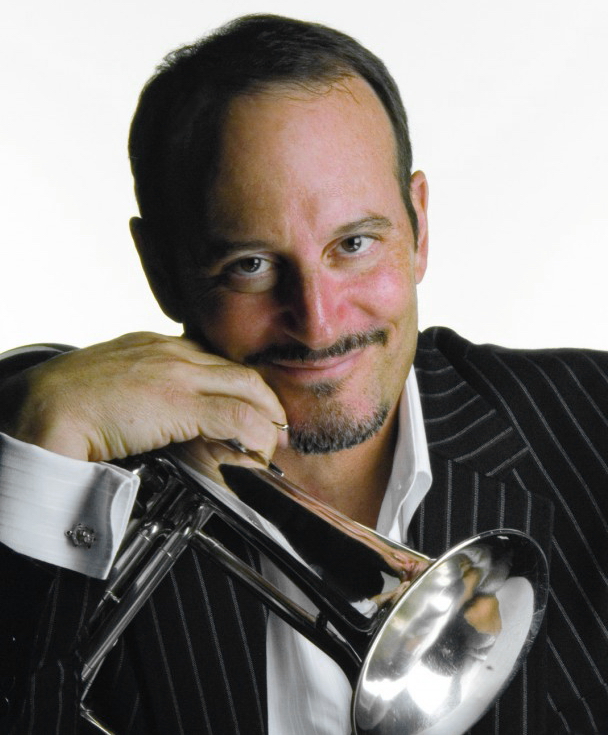 Jeff Oster


Visit Jeff's website

Jeff Oster on Facebook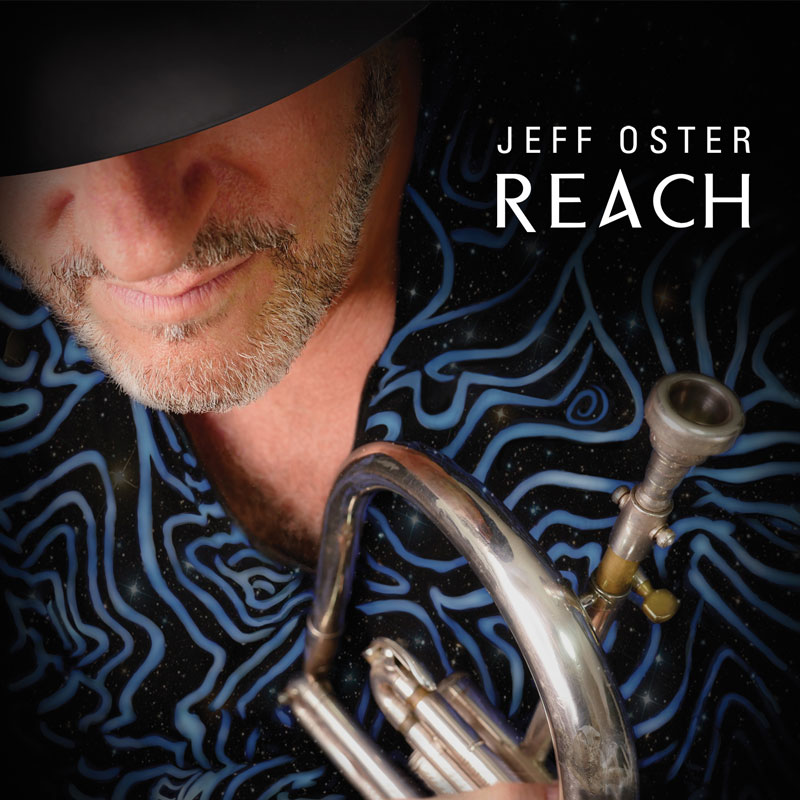 Reach
AV: What was it about music that drew you to it at the beginning? What did it bring to your life that
wouldn't be there without music?

JO: I began playing trumpet when I was 8 years old. It was in Highland Park, Illinois, and I was in third grade. They brought me into the band instrument room at school, and said "pick one". I can still see the brass against the blue velour of the case - I can still smell the valve oil. My parents told me at the time that when I was asked why I chose the trumpet, I said "I want to play the melody"

But what it has brought me is much deeper than that. I moved around quite a bit when I was growing up ( by the time I was there in Highland Park, I'd already been born in Danville, IL, moved to Lynchburg, VA, Columbus OH - and after Highland Park, we moved to Providence RI, Framingham MA, and then Coral Gables FL - not to mention my own moves after that to Eugene OR, Los Angeles Ca, NYC and then finally Alameda CA)

My horn was what made me different, what got me noticed, what got me accepted. Always being the "new kid" wasn't easy. I remember when I was in sixth grade - in Framingham, MA. I had just moved there, and I brought my horn to school - and played Silver Bells that winter. I realized that no matter how "different" I was - the music that came out of my horn was understood and accepted. That remains true today. And tomorrow.

AV: What was it that drew you to the trumpet/flugelhorn? Was there some jazz influences early on that sort of nudged you in that direction when you were choosing your own instrument for musical expression?

JO: I guess I just answered this above, right? My earliest influences weren't jazz at all - they were pop Top 40 artists like The Jackson 5, The Archies, Tommy James and the Shondells.. and the horn player was Herb Alpert. Only later did I discover Miles, and Louis Armstrong, and Chet Baker. And Pink Floyd, and Yes. And Steely Dan.
I didn't get a flugelhorn until I was 19 - in 1978 - Living in Eugene OR, Chuck Mangione had released Feels So Good - and this cover made me ask what horn that was? I was told that it was a Yamaha Flugelhorn, which I then ordered through the mail, and the first time I played it was when I took it out of the case. I still play that very same flugelhorn today, and it is the primary instrument you hear on all of my recorded playing.
AV: When you first started playing what directions were you hoping to strike out in to explore your music?

JO: In the beginning, I just wanted to make the thing sound good. HOURS of playing Hello Dolly ( the neighbors would complain), and lessons where I was learning Lullaby of Birdland - and couldn't get the syncopation right - so much so that the trumpet teacher got down on his hands and knees and actually tapped my foot for me in order to help me feel the upbeats in the song. I FINALLY got it.

When I got to high school in Coral Gables, FL - from 1973-75, I was a part of what was at the time one of the best - if not THE best - high school band in the state. We marched 200 including the majorettes (We were the Cavaliers). Our concert band was 100 players.

Our band director was a man named William Ledue. We called him "Uncle Willie", and he was one of the most inspiring teachers I ever had. And I'm not alone - I know of MANY students of his who went on to be band directors, and professional musicians. He took us to Europe, we marched in The Orange Bowl parade and halftime shows (he was the choreographer of the ENTIRE Orange Bowl halftime show for years. He even released our music on vinyl - recorded us at Criteria Studios in Miami - and there's proof.
Listen to our HIGH SCHOOL BAND play the The William Tell Overture - I was 1st Chair Trumpet ( you can hear me on this recording) this was from one of our State Band contests:
https://soundcloud.com/jeffoster/william-tell-overture-coral-gables-high-band-class-of-1975
DID YOU LISTEN? Remember, This is a HIGH SCHOOL band!
Mr. Ledue got me my first paid gig as a trumpet player. I played Taps at a veteran's funeral - stood behind a tree, and got paid $10.00. This man, and these experiences are why I play today. It only takes one teacher to inspire a kid to follow a path, the one with heart - and Uncle Willie was that man for me.
MUCH later on, in 2007, when I was in Ocala, FL - mixing music from my album TRUE, with Bruce Swedien - the engineer who did Michael Jackson's THRILLER and so much more - Mr. Ledue came to the studio to hear my own music being finished. He was the BEST.
AV: Were you writing your own music right from the beginning?

JO: My first professional gigs were as a horn section player. My very first gig with a band was with a 3 pc. power rock trio in Miami. Guitar, bass, drums, and me. We played from 9PM to 5am at a Mafia run bar in North Miami Beach - we played Us and Them by Pink Floyd, Sweet Caroline by Neil Diamond, and on the hard rock songs where trumpet didn't fit, I learned to play percussion. I still play a mean tambourine.

When I finally ended up in Los Angeles, in 1979 - I began playing in big bands, and as a horn player in different R&B bands - the Contours (Do You Love ME), and Bobby Day (Rockin Robin), and finally joined a casino lounge band, where we toured Vegas, Lake Tahoe and Atlantic City casino lounges for several years. I was part of the horn section. This was all cover music - and when I finally got off the road in LA - I formed a couple of Top 40 bands. We played the Black Angus and other restaurants in LA, back when they actually had live music.



There's proof of this - that lives on today: OFF THE WALL: https://youtu.be/4PsidDuGtKM MR. GOODROCK: https://youtu.be/4cOXheW37NI Yes, that's me "rapping" at the beginning - don't judge. At least I had HAIR back then!
During this time, I did write some singer/songwriter music - trying to get them covered by other artists. After ten years in LA starving and struggling, I decided that the only way to get ANYWHERE was to do original music. My Top 40 bands only wanted to get the next gig, and no one wanted to actually PAY to play. So,after one of my limo driver friends became a financial advisor and convinced me to become one ( yes one of my "steady" jobs in LA was as a limo driver - I'd pitch my tunes to the captive celebs in the back, and bring my horn along and play in the back while they ate dinner - I even serenaded Adam West as he put on his Batman costume at a car show in Bakersfield), I decided in 1987 to save up enough money to hire real professionals to do my own original music.
That took me until 2003. I didn't start writing my own horn music until then, when I got a Sony Vaio computer that has Screenblast Acid installed on it. I began finding loops online, and creating them with Fruity Loop software, and then played my horn over them (using that tiny plastic mic that come with PC computers (I'd have to stand in the back of the room, and slather the horn recording with reverb in order to hide the distortion) - It sounded like this:
IS ANYBODY OUT THERE - https://www.reverbnation.com/jeffoster/song/1622378-is-anybody-out-there

Back in 2003, there was a website called MP3.com - I began uploading these tracks I'd create, and began to land at #1 on the Ambient charts there. This encouraged me to continue, and I reached out to Will Ackerman, the founder of Windham Hill Records. I'd listened to and played along with at my house, his records since 1979...He wrote back, we recorded four of these tracks on my debut EP AT LAST, added 5 more songs to create RELEASED, and have gone on from there....I never really intended to be known as a "New Age" horn player - I just want to make that warm tone of mine feel so good on every record I do...

AV: How did your classical training prepare you for the music that you were writing for where you were headed with your music?

JO: I was trained as a classical player mostly, with very little formal study in jazz. I often feel as I hear Wynton Marsalis, or Freddie Hubbard, or and of the jazz greats, that I in some way has been a slacker, that I should be able to play smokin be-bop and all that. Or screaming high notes like Bill Chase used to play.
I guess I've finally decided that what I do best is create a sweet warm tone, and that I really love prog rock and Windham Hill, and lots of reverb, and that I'll just live in THAT world for a while. It suits me...
AV: I like the whimsical description of your music on your website when you call it "Miles Davis meets Pink Floyd". Tell me about the various influences and performing styles found in your music that would lead to such an encompassing style to be able to run the gamut from Miles Davis to Pink Floyd.
JO: Miles, in his modal, experimental ways, has been a deep influence for me. He tried EVERYTHING - no boundaries - and was such a singular voice, and for better or worse, a one of a kind personality. I can't think of a more important role model for me musically. Pink Floyd and Yes were both very powerful influences for me as well - in those ever formative high school years (emphasis on HIGH school in Miami ;) 0 the adventures that music takes me on are ones I'd like to capture in my own music, even just a little.
I think that many times, when I say I'm a trumpet/flugelhorn player, that you'd expect to hear My Funny Valentine, or some other jazz standards, in my recorded work. My father was a singer, and loved 30s 40s 50s standards - I used to play them all the time as he sang along.
But, if you've heard my records, there's not a lot of that at all. So, I felt it important to prepare the listener for something different - Miles meets Pink Floyd does that, don't ya think?
AV: So what do you think of the various labels that we use to put musicians into some kind of category so we know what kind of music we are getting? With a wide variety of styles and genres associated with what you play how does that work out for you?

JO: On one hand, its important to know what you're about to hear - and to know as a listener what to choose from. On the other hand, if you are a player like me, where I don't fit square in the Smooth Jazz or the Jazz box, then it becomes a bit more challenging, especially in terms of club bookings, and in terms of mainstream airplay.

Where do you actually put "Miles meets Pink Floyd"? Not on a Dave Koz Smooth Jazz Cruise, not on a Jazz at Lincoln Center show - not at The Blue Note or the Village Vanguard - right?

So, I just create what makes ME happy, and know that there are a few folks out there who "get it", and the fact that what I play is MY truth, that will resonate as it should with the people who might feel it the most.
AV: Tell me about how your first full length album came about and what you wanted to achieve musically with its release? How successful do you think you were in molding that album into what you thought it was going to be when you started work on it?
JO: My first full length album was called RELEASED, in 2005. As I mentioned earlier, these nine songs came from my first attempts to create loop based demos, and with the expert guidance of Will Ackerman - and the amazing session players he suggested (the late T. Bone Wolk on bass (Hall and Oates), Happy Rhodes on vocals, Philp Aaberg on keys, etc.) these songs were transformed from my demos into what you hear on my first record. This also marked the beginning of the recording of songs I have co-written with Will Ackerman. I call these my "Dream Come True" series of recordings, where I have been able to create and perform songs with an artist that I've admired since 1978...from fan boy, to co-writer? I still can't believe it sometimes.
This first album was a lesson in trust - to allow what I had brought into the studio to be re-created and reborn into what finally ended up on the record. I am accused of listening to my own music WAY more than many artists. I think this is because it reminds me of how far I have come, and that dreams DO come true.



AV: So with the single word titles of your albums does it refer more to where you are in your life more than referring to the actual music itself? Or are the two concepts pretty much interconnected, your music represents your life?

JO: You nailed it. Each title is a one word snapshot of where I am in my life at that moment. It actually takes a lot to distill my entire life up to that point into one word, but for whatever reason I have continued this up to the present. From the first EP, to my album released this month (October 2018), each title captures the essence of my life at the time.

AT LAST - (with the picture of a flugelhorn and a turtle crawling towards it), this was a statement of the fact that it had taken me almost 50 years to release my first record of original horn music. There is a turtle hidden in EVERY one of my album covers in honor of this first cover.

RELEASED - Finally, my music is released into the world...
TRUE - At the time, in personal relationship turmoil, where much was hidden, my music was the only thing that was true.
SURRENDER - The relationship had changed, ended, and I was in the middle of all that entailed. All I could do was surrender.
NEXT - I'd made it through, still standing. What comes next?
REACH - At 61 years old, I still don't know what the path might look like. It's as if I'm driving into a traffic circle with multiple exits - each leading to a very different destination. Which one should I take? I'm reaching for the answer.
AV: Let's talk about your latest album called Reach that came out earlier in October. Tell me about how Reach came about and what was different about the overall process of recording this album compared to your earlier releases?
JO: This album was created in a MUCH different way than any of my other releases. Produced by Ruslan Sirota, Grammy winning pianist with Stanley Clarke, music director for Josh Groban, solo artist and SO much more, Ruslan brought together a group of deeply accomplished LA session players. In addition to his piano and keys, he brought Tamir Barzilay on drums (Tal Wikenfeld), Benjamin J. Shepherd on bass (Peter Erskine, Dave Wekl) Robin Ghosh on guitar, Pete Korpela on percussion (Josh Groban, Randy Brecker, many TV and movie shows)
We captured ten songs in a day - the basic tracks each capturing a feel, a vibe. Ruslan and his mixing engineer Yan Perchuk took those session tracks and polished them into songs that I then came back to play horn over. It took three days of just blowing, creating, freely. We shaped ideas as they emerged. Ruslan took those hours of playing, and we ended up with the performances you hear on REACH. The goal was to share my horn playing on a record in a way that emphasized the freedom of me blowing. Of me REACHING for something more...I think we caught some of that.
AV: As far as the music that people will find on Reach how will it differ from what listeners have found on your previous releases?
JO: It's more wide open, it encompasses different styles, from ambient new age, to world, to Latin, to sweet jazz ballads...you'll hear me. ME. In 2018
AV: What does the title Reach imply as to where Jeff Oster is headed in the future?
JO: I guess we're about to find out, right? When you see the one word title of my next album, whatever that will be, then we'll know where my life went - up to THAT point.
AV: So was Reach a stretch for you as a composer and a musician who previously approached music in a very structured way via your classical training?
JO: Man, you are spot on with these questions. There was not ONE written note on this entire record. NOT. ONE. It was walking across Niagara Falls without a net. It was hard, and it was freeing, and it was scary, and it was beautiful. I trusted Ruslan to take these performances and shape them. He did a fine job. I couldn't be more proud of this music.
AV: Working on so many other musician's albums at Imaginary Roads Studios how did that evolve your view of your own music?
JO: I am SO grateful to be asked to add my horn to so many of Will Ackerman and Tom Eaton's productions that are recorded at Imaginary Road. To come into the studio, and to create horn parts guided by Will and Tom has allowed to be trust my own playing and execution in the studio. Studio recording is VERY precise (especially when Will is producing - I've played the same three notes 20 times before he feels it's good enough, although I'm getting better!) To stare at a tuner to make sure the notes are perfectly in tune, while searching for free inspiration in creating the horn parts is quite the work out. I love it.
Tom Eaton reflecting on Mastering Jeff's "Reach" Album

"Jeff joined me at my studio (Universal Noise Storage) here in Newburyport, MA to master "Reach" in March of 2018. Jeff and I got to know each other well during my work with Will Ackerman on his beautiful "Next" album, and our time together recording and performing with FLOW. Somewhere in there I also mastered his "Live" album, and roped him into an improv trio with Vin Downes and me!

"Reach" was a complete departure for Jeff... working with a new producer and cutting the basic tracks for the entire album in a day. No other Jeff album has either a live band or the same players on every track... so this is a very different setting for his horn. I think it works tremendously well... Ruslan (Sirota, producer and co-writer) chose great players and led them perfectly, leaving just the right space for Jeff.

The mastering process was relatively easy; the tracks sounded wonderful and our focus was mostly on making the record move from the world of each song to the world of the next in the most perfect of ways. For me the focus in mastering is always making the journey of the album as easy to follow as possible and in this case I think that Jeff, Ruslan and Yan Perchuk (who mixed the album) gave me everything I could have wanted. Each Oster album explores a slightly different direction and I think "Reach" is as much a brilliant collection of moods as it is a testament to Jeff's flexibility, chops and mastery of tone. I was thrilled to be able to put the last sparkle on the album and hope people love it as much as I do!"
AV: Tom Eaton of Imaginary Roads Studios mastered Reach when it was at that final stage of production. Exactly what happens during the mastering process and how does Tom influence the final product that will be sent out into the world and did the two of you work together until you were happy with the finished work?
JO: If the final mixes are the rough cut diamond, Tom is the man that polishes it into the sparkly stone that gets set in the ring. Mastering to me is a mysterious art, where Tom sets the levels of the different songs relative to the other songs, makes sure there not too much bass or treble, makes sure the records feels like ONE. I did sit there with him as he mastered it, although I'm sure I was more of a distraction than anything. Tom is a MASTER at this - Pun intended.
AV: On top of all that you've also been involved with FLOW over the last couple of years. Was that a big change for you working as a member of a group instead of your solo work?
JO: FLOW is a whole 'nother thang indeed! This is not only a group, these are three other successful solo artists in their own right, with bodies of work and distinct styles that stand alone. Being a part of this alchemy has been both challenging and deeply rewarding. I do think that my experience in many groups in my past has given me skills and perspective and tools that have helped FLOW become the success that it is. Each of us has a uniquely different set of skills and all of them have added to the FLOW experience.
AV: How did you become involved with FLOW?
JO: Three years ago, Lawrence Blatt reached out to me with an idea - that me, Fiona Joy and him create an album together, and we'd have Will Ackerman and Tom Eaton produce it. I'd played horn on several of both his and Fiona's albums, all produced by Will. I agreed, and we approached Will with the project. As discussions continued, Lawrence asked if Will might actually want to be part of the group, to add a few of his songs to the mix. To our delight, he agreed. We then met for sessions at Imaginary Road, each of us bringing songs, and the FLOW magic was revealed. We all were thrilled as a unique group sound emerged from the process, and instead of this becoming a compilation album of a few Will songs, Lawrence songs, Fiona songs and Jeff songs, it truly took on a sound of its own. Our live touring has only expanded this feeling and this sound. It has truly taken on a life of it's own.
We've seen the music embraced out in the world. We've won Best New Age Album at the Independent Music Awards, as well as Album of the Year at the ZMR Awards.
We've also entered the album into this year's Grammy Awards, in the Best New Age Album category. It is sweet to see the success this album has had, and look forward to whatever comes next!
AV: Do you look at FLOW as the equivalent of a super group made up of talented musicians that were at the top of their game?
JO: I'm a bit hesitant to use the term "super group" when it comes to FLOW. While it is true that each of us has had some nice success with our solo work, this group really does feel like four friends who have taken Lawrence's idea and run with it. None of us had any real idea in advance where this might lead, we only knew that we should give it our best shot, to create the best music that might appear from the four of us working together. I am super happy with what has happened so far, and look forward to the next chapter!
AV: Is FLOW an ongoing project or was it just created for a short term duration?
JO: We've created four new songs, to be a part of our second album. Here's one of them:
LAST LIGHT: https://open.spotify.com/album/3jbaKaWTqhXPX0dSETLuvN?si=cKSxiz0ESeylBWmOPZFCOw
We look forward to sharing our next album with the world some time next year! We love working and creating together. It IS a challenge with everyone's schedules and locations in the world, but where there's a Will (Ackerman), and a Tom Eaton and a Fiona Joy and a Lawrence Blatt - there's a way ;)
AV: How do you feel about the recognition of music industry awards for your work both as an individual musician and as part of FLOW? Do you find the recognition of your peers as a confirmation that all your hard work on your music is validated in some ways?
JO: Well, there are certainly differing opinions on awards, and that whole process. I am deeply grateful for the recognition my personal work has seen, as well as the way FLOW has been embraced. It is ALWAYS sweet when your peers, the broadcasters and the public choose to honor the music. I do think however that the process of the creation and sharing of music itself is what matters most. I firmly believe that if I love my music, that I am happy with it as much as I can be, if I personally have given it all I can before it is released into the world, then what comes after is out of my hands. Do I enter the work in various awards? Of course. Do I care if it "wins"? Of course. Is it nice when it does? Of course. I am grateful for all that has come to me from my music, awards included. And, I'd keep making it anyway, because I LOVE it and NEED to create and play. Music saves my life in a million ways.
AV: Finally, how do you feel about your music at this point in time? Are you where you thought you would be and what are you looking forward to in the journey ahead?
JO: I am grateful to be able to play. I believe I am getting better and better, and at this point in my life, I can only do more and more with my music. It has given me joy, and friendship, and moments of ecstasy beyond measure. It has taken me to places I'd never have been able to go without it. I hope that I have many, many more years to create and share my music, and I am deeply happy that so many people have told me that my music makes them happy, makes them FEEL something. I can think of nothing finer.
Thank you for asking me these questions - and for allowing me to share the answers with you. Peace.
AV: No, thank you Jeff for really taking the time out to share your musical life with the readers of Ambient Visions. We have immensely enjoyed the music that you have released to date and we look forward to many more years of your artistic musical visions being released as you continue to let us in on the life and times of Jeff Oster via your musical diary.