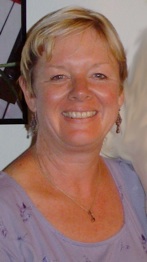 Kathy Parsons
I have been playing the piano since about the age of 5, but since I've never enjoyed performing, I was an art major in college. I couldn't find an agreeable way to pay the bills with my artwork, so I started teaching piano privately in 1981. That has been a more-than-full-time profession ever since. As part of teaching, I began writing a monthly newsletter in 1982.
At first, it was mostly announcements about lessons and recitals, but quickly grew to include a Composer of the Month story as well as other features. Early on, I wrote about classical and early jazz composers, but thought it would be fun to contact some of the contemporary composers who were beginning to be heard on the radio. I started with Yanni (!!!). Beth Lewis at Private Music answered my initial questions, but Yanni called a couple of times to chat after that (around 1988, before he became a household name).
I was so excited when new age music started coming out in print, and I went about this new age piano thing backwards for awhile. I would buy and play the sheet music and then buy LPs and cassettes of the artists whose music I enjoyed playing. I also began teaching it to my students as a bridge between pop and classical music. When KKSF began playing new age music full-time, I was hooked. The next contemporary composer I contacted was Suzanne Ciani. By mail, it could take forever to contact someone via their labels, but eventually Suzanne called me and we did a phone interview. I continued to send both artists my newsletter as well as correspondence, and when Suzanne moved to California, she said she'd like to meet. I had been teaching a lot of her music by then and suggested that she come to my home studio and I'd have some of my students play for her.
That idea was a huge turning point in my life and started me down a path no other piano teachers have taken the time to pursue. Once I had Suzanne as a reference, it was much easier to contact artists and have them get back to me. Since then, I've gotten to know many of the pianist/composers in the genre, and for the past nine years, I've done at least two workshops or concerts a year with a composer and my students. Recent workshops have included David Lanz, Kevin Kern, Spencer Brewer (three times), and Suzanne (also three times). The last several workshops have included several artists who came for the events, and I can't explain the thrill of witnessing Kevin Kern and Spencer Brewer or Kevin and David Lanz jamming on completely improvised duets right in my living room!
I've also interviewed many, many artists - first for my newsletter, then for "Wind and Wire" magazine, and now for Solo Piano Publications as well as my own "Pianotes". I was with "Wind and Wire" from the first issue through the end. I discovered so many wonderful artists who weren't as mainstream as Ciani and Lanz, and I wanted to continue to help give them some exposure. When John Nicholas said he was starting Solo Piano Publications, I jumped at the chance to work with him and have been doing all of the writing for the site.
Last year, I was asked to edit a songbook of Kevin Kern's piano compositions, and I found that to be lots of fun. I love hearing that people who read my reviews enjoy them and find them useful, but I frequently hear from artists that I was able to nail what they had in mind and put it into words, and that REALLY means a lot to me. I don't review piano albums exclusively, but since it is my field of expertise, that's what I review the most. I have lived in the San Francisco Bay Area all of my life, and have lived in Hercules since 1988.
| | |
| --- | --- |
| | From the back left, Kathy Parsons, Jeff Bjorck, Janie Campbell, Patrick Lee Hebert, and then left front is Kevin Kern and David Lanz. |